Main content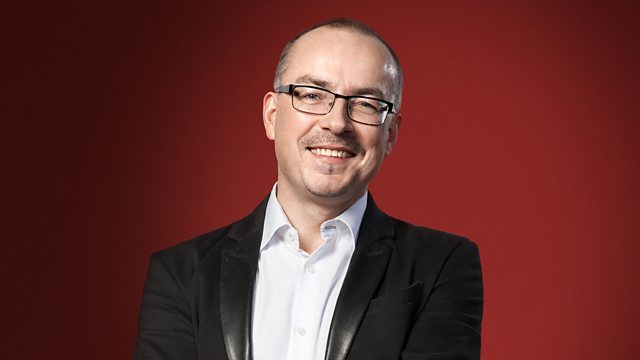 Building a Library: Brahms: String Quartet in C minor, Op 51
CD Review with Andrew McGregor bringing all that's in the world of classical music recordings Building a Library: Brahms String Quartet no 1 in C minor.
Andrew McGregor introduces CD Review, Radio 3's weekly programme devoted to all that's new in the world of recorded music
09.05am
Dialogues of Sorrow
ROBERT RAMSEY: When David Heard; What Tears, dear Prince?; How are the Mighty Fall'n; Sleep Fleshly Birth; FORD / CRANFORD / WARD: Passions on the Death of Prince Henry; COPRARIO: From Songs of Mourning; WEELKES: O Jonathan; Woe is me; When David Heard; DERING: And the King was Moved; Contristatus est David; VAUTOR: Melpomene; Bewail; TOMKINS: Then David Mourned; When David Heard; WARD: Weep Forth your Tears
Elizabeth Kenny (lute) / Gallicantus / Gabriel Crouch (director)
Signum SIGCD210 (CD)
Il Giardino Del Mondo: Giovanni Paolo Cima and his contemporaries
CIMA: Sonata a tre in a; Sonata in d; Sonata in g; Quam pulchra es; Gustate et videte; Surge propera-Ecco; O sacrum-Ecco; Adiuro vos; filiae Hierusalem; Gaudeamus omnes; MERULA: La Cattarina; La Gallina; La Bianca; L'Ara; La Treccha; Gaudeamus omnes GRANDI: Salve Regina; Regina caeli; O quam tu pulchra es; Deus; canticum novum
Basel Baroque Consort
Pan Classics PC 10226 (CD)
BLOW: As on his deathbed gasping Strephon lay; BUXTEHUDE: Jubilate Domino, omnis terra, BuxWV 64; HANDEL: Neun deutsche Arien, HWV202-210; PURCELL: Gentle shepherds, you that know the charms, Z464; What a sad fate is mine, Z428A; An Evening Hymn 'Now that the sun hath veiled his light', Z193
Iestyn Davies (countertenor) / Ensemble Guadagni
Wigmore Hall Live WHLIVE0038 (CD)
Melani: Mottetti (Motets)
MELANI: Litanie per la beata vergine; Ave regina coelorum; Clamemus ante deum; O voces formidandæ; De necessitatibus; Laudate pueri; Vivere sine te; Salve regina; Ad arma, cor meum; Magnificat;
Concerto Italiano / Rinaldo Alessandrini (organ & conductor)
Naïve OP 30431 (CD)
09.30am Building a Library
BRAHMS Quartet Op. 51/1 C minor
Reviewer - Piers Burton-Page
First Choice Recommendation:
BRAHMS: String Quartet No. 1 in C minor, Op. 51 No. 1; Piano Quintet in F minor, Op. 34
Quatuor Ebene / Akiko Yamamoto (piano)
Virgin 2166222 (CD)
Search the Building a Library database for recommendations since 2005 via the CD Review website: www.bbc.co.uk/radio3/classical/cdreview
10.20am
William Mival looks at some new orchestral releases including Brahms from Sir John Eliot Gardiner and the Orchestre Revolutionnaire et Romantique, Richard Strauss from Mariss Jansons and the Bavarian Radio SO, Mahler from the Frankfurt Radio SO and Paavo Jarvi and a recreation of a wind band concert which the young Gustav Mahler might have heard in his home town.
BEETHOVEN: Coriolan Overture, Op. 62; BRAHMS: Fest- und Gedenksprüche, Op. 109; Symphony No. 4 in E minor, Op. 98; Geistliches Lied, Op. 30; GABRIELI: Sanctus et Benedictus a 12; SCHUTZ: Responsorium: Saul, Saul, was verfolgst du mich SWV 415
The Monteverdi Choir & Orchestre Revolutionnaire et Romantique / John Eliot Gardiner (conductor)
SDG: SDG705 (CD)
STRAUSS: Der Rosenkavalier - Suite; Till Eulenspiegels lustige Streiche, Op. 28; Four Last Songs
Anja Harteros (soprano) / Andreas Rohn (violin solo) / Symphonieorchester des Bayerischen Rundfunks / Mariss Jansons
BR Klassik 900707 (CD)
MAHLER Symphony No. 2
Natalie Dessay / Alice Coote / Frankfurt Radio Symphony Orchestra / Paavo Jarvi (conductor)
Virgin Classics 6945860 (2 CDs)
Gustav Mahler and Military Music in Jihlava 1875
SCHUBERT: Militar-Marsch; AUBER: La muette de Portici (Ouverture); STRAUSS: Geschichten aus dem Wienerwald, Walzer; WAGNER: Einzugsmarsch aus dem Oper Tannhauser; Freiherr von Hess-Marsch No. 49; BEETHOVEN: Yorckscher Marsch; MASSAK: 49er Defi lier Marsch; Cavatina fur Trompete und Militarmusik; 49er Defi lier Marsch; Marsch fur Militarmusik,; FAHRBACH: Standchen-Polka
The Prague Castle Guard and Czech Police Band / Capt. Pavel Hromadka (trumpet ) / Colonel Vaclav Blahunek (conductor)
Arco Diva UP01292 (CD)
11.20am Interview
Edward Higginbottom talks to Andrew about his recording of Monteverdi's Vespers. Released to mark the publication of the work 400 years ago this CD, made with his New College, Oxford choir is the debut release from the college's own label, Novum. Including extracts from:
MONTEVERDI: Vespro della beata Vergine
New College Choir Oxford / Charivari Agreable / Edward Higginbottom (conductor)
Novum NCR1382 (2 CDs)
11.40am Disc of the Week
MAHLER: Des Knaben Wunderhorn; Symphony No. 10 in F sharp major - Adagio
Magdalena Kozena (mezzo-soprano) / Christian Gerhaher (baritone) / Cleveland Orchestra / Pierre Boulez (conductor)
Deutsche Grammophon DGG 477 9060 (CD)
MAHLER, recomposed by MATTHEW HERBERT: Symphony No. 10 in F sharp major
Philharmonia Orchestra / Giuseppe Sinopoli (conductor)
Deutsche Grammophon DGG 06025 2734438 (CD)