Main content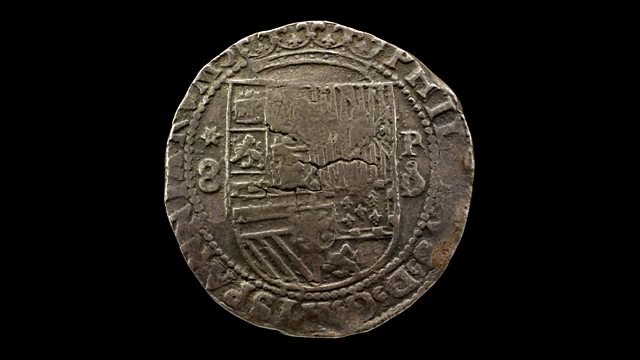 Pieces of eight
Neil MacGregor is this week focusing on European encounters around the world between 1450 and 1600. Today he is with the with the first truly global money - silver pieces of eight.
Neil MacGregor's world history as told through things that time has left behind. This week he is exploring the world between 1450 and 1600 - looking at what was happening in South America, Africa and Japan at the time of the great European age of discovery. He has looked at the new ocean going galleons that were being built in Europe at this time and today he describes the money that was being used to fuel the great new trade routes of the period. He is with pieces of eight, little silver coins that by 1600 could have been used in many countries around the world. Neil describes Spain's dominance in South America and their discovery of a silver mountain in Potosi in present day Bolivia. He describes the process by which pieces of eight turned into the first truly global money. The Bolivian former head of a UNESCO project in Potosi describes the conditions for workers there today and the financial historian William Bernstein looks at how these rough silver coins were to shift the entire balance of world commerce.
Producer: Anthony Denselow.
Last on

More episodes
Next
You are at the last episode
Podcast
Director of the British Museum, Neil MacGregor, retells humanity's history through objects