Main content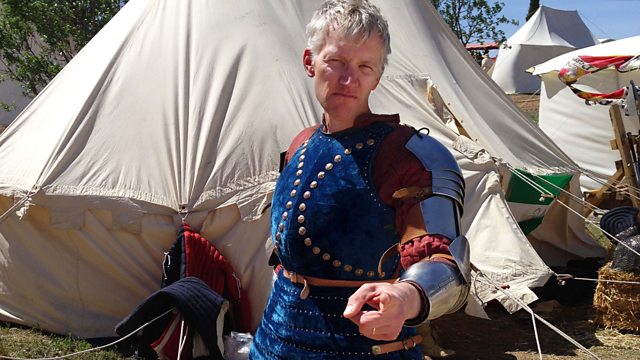 14/09/2010
Today, the link between Charlotte Bronte and a medical revolution in Manchester; how royalty helped the working class to divorce; and a silent witness to the War of the Roses.
In 1846 Charlotte Bronte began her most famous novel, Jane Eyre, in a terraced house in Hulme, south Manchester miles away from the Yorkshire moorland that we associate with her family. What was she doing there?
Vanessa Collingridge discovers Charlotte's father the Reverend Patrick Bronte was undergoing cutting-edge eye surgery to rid him of cataracts that left him almost blind. The surgery appears almost brutal, with the patient being held by two of the surgeon's assistants, but it was very effective and the only drawback seemed to be the month-long recovery process during which Reverend Bronte had to lie still on a bed whilst his eyes healed.
Charlotte used this time well to start writing her book, but what was this part of Manchester like just two years after the city influenced Engels to write The Condition of the English Working Classes, his often grim description of the world's first modern city? Vanessa meets up with Professor Alan Kidd to explore 1840's Manchester and talks to a leading eye surgeon about the treatment Charlotte's father received.
How did royalty help ordinary people secure divorce? A listener's family history research reveals the divorce of a poor couple in Sheffield in the 1920's when separation was almost unheard of for all but the very wealthy. Dr Caitriona Beaumont of London South Bank University takes Vanessa through a brief history of divorce from the mid-nineteenth century when it was the prerogative of rich men to the years after the abdication crisis involving Edward and Mrs Simpson which inadvertently allowed anyone to separate.
He crowned 3 monarchs and was in post for 32 difficult years during the fifteenth century when England was split between Lancastrians and Yorkists- so why do we know so little about Archbishop Thomas Bourchier? That's the question asked by a Making History listener after seeing the Archbishop's tomb in Canterbury Cathedral but failing to find out more about the man. Making History's Lizz Pearson pieces together Bouchier's career and asks whether he was a brilliant politician or just someone who managed to keep his head down.
Contact:
Email: making.history@bbc.co.uk
Write to Making History. BBC Radio 4. PO Box 3096. Brighton BN1 1PL
Join the conversation on our Facebook page or find out more from the Radio 4 website: www.bbc.co.uk/radio4/makinghistory
Presenter: Vanessa Collingridge
Producer: Nick Patrick
A Pier Production for BBC Radio 4.