Main content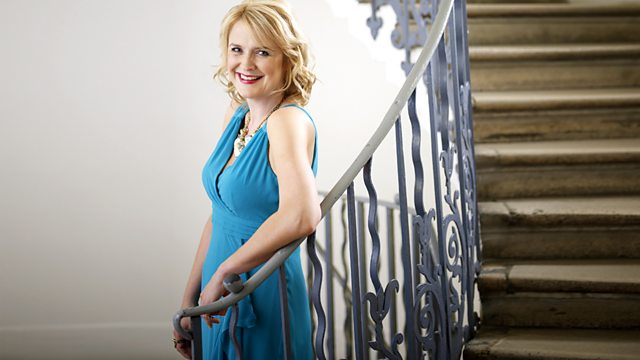 Monday - Sarah Walker
With Sarah Walker. Beethoven: Egmont Overture. Bach: Brandenburg Concerto No 4. Mendelssohn: Songs without Words in D. Samaniego: De esplendor se doran los ayres.
Classical Collection with Sarah Walker: this week Sarah presents a collection of works influenced by Goethe's writing and recordings from Jacqueline du Pre.
Sarah pays homage to Johann Wolfgang von Goethe with a selection of works influenced by the great German writer, including excerpts from Berlioz's La Damnation de Faust. The programme opens with Beethoven's Egmont Overture played by the Berlin Philharmonic and there's also Jacqueline du Pre playing Elgar's Cello Concerto.
10.00
Beethoven
Egmont Overture
Berlin Philharmonic Orchestra
Herbert von Karajan (conductor)
DG 419 624-2
10.09
Bach
Brandenburg Concerto No.4 in G major, BWV1049
La Petite Bande
Sigiswald Kuijken (director)
DHM 05472 77308
10.25
Mendelssohn
Songs without Words in D, Op.109
Jacqueline du Pre (cello)
Gerald Moore (piano)
EMI CDC 555529-2
10.31
Samaniego
De esplendor se doran los ayres (1666)
Al Ayre Espanol
Eduardo Lopez Banzo (director)
HARMONIA MUNDI HMI 987053
10.38
Kodaly
Dances of Marosszek
Budapest Festival Orchestra
Ivan Fischer (conductor)
HUNGAROTON HCD 31324
10.51
Elgar
Cello Concerto in E minor, Op.85
Jacqueline du Pre (cello)
BBC Symphony Orchestra
John Barbirollli (conductor)
TESTAMENT SBT1388
11.22
Schubert
Gesang der Geister uber den Wassern, D.714
Austrian Radio Chorus
Austrian Radio Symphony Orchestra
Gottfried Preinfalk (conductor) DG 437 649-2
11.43
Berlioz
Excerpts from La Damnation de Faust
Minuet of the Will-o'-the-Wisps
Dance of the Sylphs
Rakoczy March
Baltimore Symphony Orchestra
David Zinman (conductor)
TELARC CD-80164.