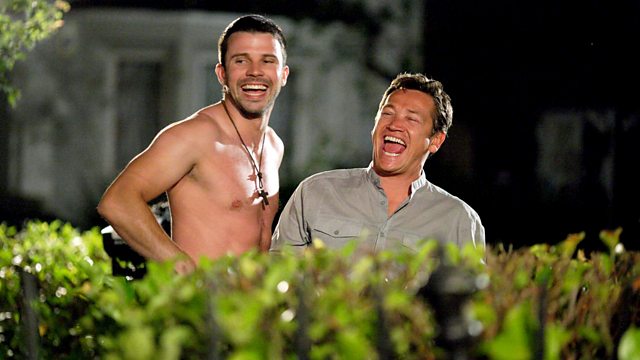 06/09/2010
Peggy celebrates the Vic being hers again. Phil, meanwhile, sits in a drug-fuelled haze in a squat. Peggy insults Janine at the hen party, claiming she only loves money. Pat jumps to Janine's defence, retorting that the only thing Peggy loves is the Vic, which is why she's allowing Phil to kill himself on drugs. With Pat's words having struck a chord, a downcast Peggy despairs about Phil. Dot urges her not to give up on him. Stirred into action, Peggy heads to the squat with Billy and Minty to retrieve Phil. They return an enraged Phil kicking and screaming to the Vic. Forcing him into the living room, a tearful Peggy nails the door shut.
Pat drags a reluctant Janine to R&R for her hen party. They're met by an unenthusiastic gathering of hens that Pat's managed to assemble. A preoccupied Bianca frets over Sam's baby and accosts Ronnie about Jack. An argument ensues and the women tussle. Janine overhears Peggy sneering at her and the two trade insults. Pat intervenes, but Peggy points out that even Pat doubted the marriage would last. Janine's left affronted by the lack of faith. On hearing the gathered hens deriding her too, a fed up Janine turns on them. Left alone, she's approached by Richard; a wealthy, handsome man. Leaving the club, Janine hears a drunken Ryan declaring his love for her. She hesitates before kissing Richard and getting into his car.
Concerned for Stacey in the aftermath of events with Becca, Jean grows increasingly worried by her erratic manner. Seeing Stacey, Dot remarks about the jacket she's knitting for Lily. Stacey impassively replies that she needn't worry as Lily is nothing to do with Dot; Bradley's not Lily's father.
Ryan celebrates his stag night with Ricky; unaware of what Janine's doing.
Last on
Credits
| Role | Contributor |
| --- | --- |
| Peggy Mitchell | Barbara Windsor |
| Phil Mitchell | Steve McFadden |
| Billy Mitchell | Perry Fenwick |
| Minty Peterson | Cliff Parisi |
| Sam Mitchell | Danniella Westbrook |
| Roxy Mitchell | Rita Simons |
| Janine Malloy | Charlie Brooks |
| Ryan Malloy | Neil McDermott |
| Ricky Butcher | Sid Owen |
| Pat Evans | Pam St Clement |
| Bianca Butcher | Patsy Palmer |
| Ronnie Mitchell | Samantha Womack |
| Whitney Dean | Shona McGarty |
| Denise Johnson | Diane Parish |
| Kim Fox | Tameka Empson |
| Heather Trott | Cheryl Fergison |
| Shirley Carter | Linda Henry |
| Carol Jackson | Lindsey Coulson |
| Dot Branning | June Brown |
| Stacey Branning | Lacey Turner |
| Executive Producer | Bryan Kirkwood |
| Director | Lee Salisbury |
| Writer | Daran Little |
| Jean Slater | Gillian Wright |
| Mo Harris | Laila Morse |
| Jay Brown | Jamie Borthwick |
| Richard Monroe | Andrew Hall |