Main content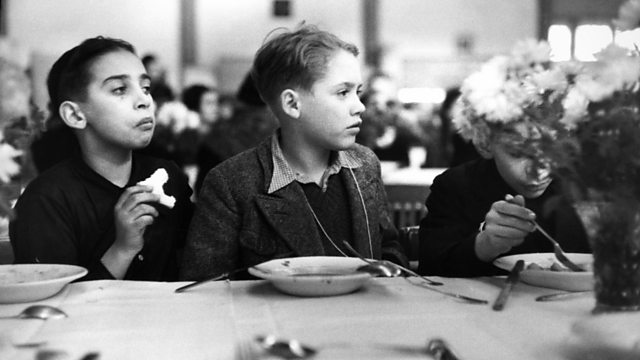 Kindertransport
Sue MacGregor brings together some of the Jewish children who were rescued from Nazi persecution by the Kindertransport movement in the late 1930s.
Sue MacGregor gathers together some of the Jewish children who were brought to safety in England by the Kindertransport movement of the 1930s.
From the 2nd December 1938 until war broke out nine months later, almost ten thousand Jewish children were rescued from Nazi persecution from Germany and the occupied territories of Austria, Poland and Czechoslovakia. The operation became known as the Kindertransport movement.
Following the Kristallnacht attack on Jews in Germany, the British government decided to offer refuge to a limited number of Jewish children. They were sent without their parents by train and boat to England. They were only allowed to take a small suitcase and ten reich marks. When they arrived many were either placed in temporary hostels or in foster families. Many found kind homes, some were exploited as easy domestic help and others were neglected.
To start with the children had occasional written contact with parents through the International Red Cross. But as WWII progressed, the communication died out.
Most of them never saw their parents again. A small percentage were reunited with parents who had either spent the war in hiding or survived the Nazi camps but it was invariably impossible to re-establish family relationships.
In 1989, fifty years after the last Kindertransport train left mainland Europe, hundreds of former Kindertransport children gathered in London to remember the event. Today many have united to form the Kindertransport Association. But others still prefer to hold their past at a distance.
Sue is joined around the table by Lord Dubs, Hella Pick, Ruth Humphreys, Sir Erich Reich and Ruth Barnett.
Producer: Sarah Cuddon
A Whistledown Production for BBC Radio 4.