Main content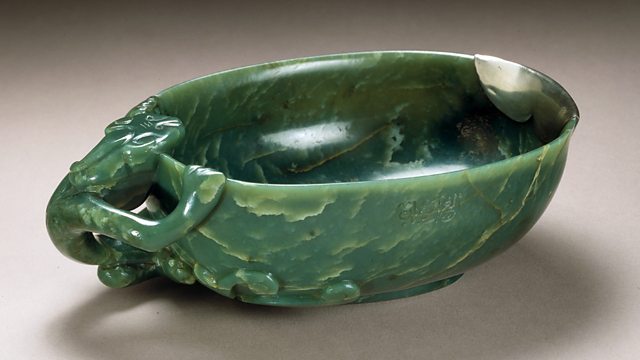 Jade Dragon Cup
Neil MacGregor's world history explores the great empires of the world around 600 years ago. He examines a jade cup that belonged to a leader of the great Timurid Empire.
The history of humanity as told through one hundred objects from the British Museum in London is this week exploring powerful empires around the world in the 14th and 15th centuries. Today he is with a handsome jade cup that once belonged to one of the great leaders of the Timurid Empire - the great power that stretched across Central Asia, from Iran to parts of India. The owner of the cup was Ulugh Beg, the man who built the great observatory in his capital Samakand and who - like Galileo and Copernicus - has a crater on the moon named after him. Neil tells the story of the Timurids and charts the influences that spread along the Silk Road at this time. The Uzbek writer Hamid Ismailov and the historian Beatrice Forbes Manz describe the Timurid world and the extraordinary character of Ulugh Beg.
Producer: Anthony Denselow.
Last on

Podcast
Director of the British Museum, Neil MacGregor, retells humanity's history through objects