Main content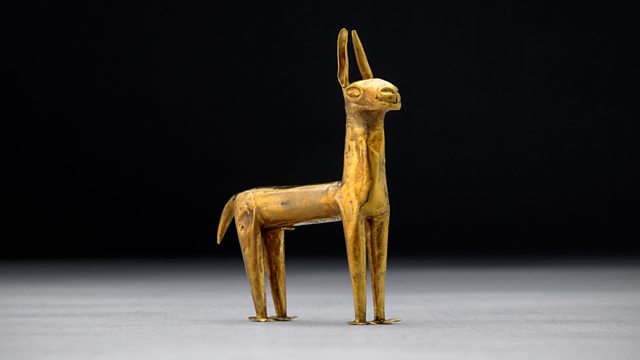 Inca Gold Llama
Neil MacGregor looks at powerful empires across the world 600 years ago - today he is with the great Inca Empire that once dominated South America - and a gold llama.
The history of humanity - as told through one hundred objects from the British Museum in London - is back in South America. This week Neil MacGregor, the museum's director, is with the powerful elites - exploring the great empires across the world 600 years ago. Today he is with a small gold model of a llama, the animal that helped fuel the success of the great Inca Empire that ruled over some 12 million people right down the Pacific West Coast. For a culture living at high altitude in rough terrain and without horses or pack animals, the llama proved all important - for wool, for meat and for sacrifice. Neil tells the story of the Inca, the ways in which they organised themselves and things that they believed in. And he recounts what happened when the Spanish arrived. The scientist and writer Jared Diamond and the archaeologist Gabriel Ramon help tell the story.
Producer: Anthony Denselow.
Last on

Podcast
Director of the British Museum, Neil MacGregor, retells humanity's history through objects