Main content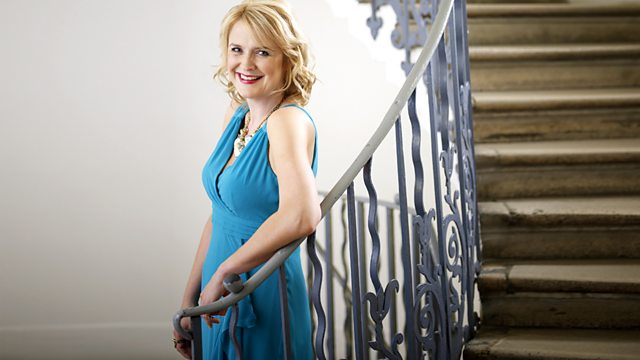 Wednesday - Sarah Walker
With Sarah Walker. Weber: Invitation to the Dance. J Strauss II: Wo die Zitronen bluh'n. Wolf: Kennst du das Land. Mozart: Piano Concerto No 6. Tchaikovsky: The Nutcracker Suite.
Classical Collection with Sarah Walker: this week a collection of waltzes; classic recordings from Maurizio Pollini.
Today, Sarah continues the dance theme with Weber's Invitation to the Dance performed by the pianist Stephen Hough, and Tchaikovsky's Suite from The Nutcracker played by the Chicago Symphony Orchestra under Claudio Abbado. Other classic recordings include Johann Strauss Il's Wo die Zitronen bluh'n performed by Zubin Mehta and the Vienna Philharmonic Orchestra and Mozart's Eine kleine Nachtmusik from George Szell and The Cleveland Orchestra.
10.00,
Weber
Invitation to the Dance, Op 65
Stephen Hough (piano)
HYPERION CDA 67686
10.09
Johann Strauss II
Wo die Zitronen bluh'n
Vienna Philharmonic Orchestra
Zubin Mehta (conductor)
DG 477 6225
10.19
Wolf
Kennst du das Land
Geraldine McGreevy (soprano)
Graham Johnson (piano)
HYPERION CDA 67130
10.27
Mozart
Piano Concerto No 6 in B flat, K238
Malcolm Bilson (fortepiano)
English Baroque Soloists
John Eliot Gardiner (conductor)
ARCHIV 427 317-2
10.48
Tchaikovsky
Suite - The Nutcracker
Chicago Symphony Orchestra
Claudio Abbado (conductor)
SONY SK 48056
11.11
Szymanowski
Litany to the Virgin Mary
Elzbieta Szmytka (soprano)
CBSO Chorus
City of Birmingham Symphony Orchestra
Simon Rattle (conductor)
EMI 555121-2
11.19
Beethoven
Sonata in A flat, Op 26
Maurizio Pollini (piano)
DG 435 472-2
11.39
Mozart
Serenade in G, K525, Eine kleine Nachtmusik
The Cleveland Orchestra
George Szell (conductor)
SONY 82876 867932.