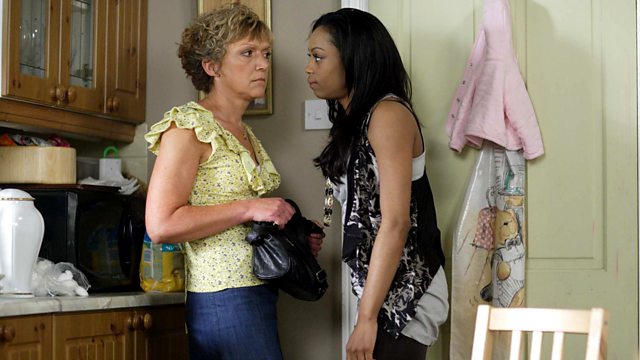 30/08/2010
Becca persuades Stacey to come off her medication. Jean's surprised when Stacey goes out, leaving Lily with Becca. Becca blames Jean for all the mistakes made on the stall in Stacey's absence. Becca tells Denise that Stacey doesn't want Jean anywhere near the baby, Jean's upset when Denise advises her to back off. Becca suggests to Stacey they get a flat together. Jean confronts Becca, she knows what she's trying to do. Becca snaps, and tells Jean she called the police the night Bradley died, without her Jean wouldn't have Stacey at all. Becca's adamant, if Jean tells Stacey, she'll end up back in hospital. Becca thinks Jean should back off, Stacey's hers now.
It's Bank Holiday Monday. Ricky claims he has to work, then visits Sam in hospital. On the way he's collared by Kim, who asks him to fix her caravan. Whitney and the kids give Bianca some money to go and have beauty treatment. When Ricky arrives at the hospital, Minty's there, Sam's gone for a scan. On her return, Sam tells Ricky she doesn't want her child to grow up without a dad. She talks about their history. Ricky's leaves, confused. Back home, the kids are bored and driving Whitney mad. Ricky takes the kids to Kim's caravan, pretending they're at the seaside. Bianca arrives, kicks the kids out and seduces Ricky.
Jane asks Denise' if she can set up a bank account in her name, so she can hide money for when she leaves Ian. Denise is unsure if Jane's doing the right thing, and her doubts increase when Ian presents her with an amazing cake he's baked and decorated for Jordan's birthday – for free.
Carol gets a job in the bookies.
Last on
Credits
| Role | Contributor |
| --- | --- |
| Jean Slater | Gillian Wright |
| Becca Swanson | Simone James |
| Stacey Branning | Lacey Turner |
| Denise Johnson | Diane Parish |
| Jane Beale | Laurie Brett |
| Ian Beale | Adam Woodyatt |
| Minty Peterson | Cliff Parisi |
| Sam Mitchell | Danniella Westbrook |
| Kim Fox | Tameka Empson |
| Ricky Butcher | Sid Owen |
| Bianca Butcher | Patsy Palmer |
| Carol Jackson | Lindsey Coulson |
| Whitney Dean | Shona McGarty |
| Liam Butcher | James Forde |
| Tiffany Butcher | Maisie Smith |
| Morgan Jackson-King | Devon Higgs |
| Officer Tamsin Reilly | Ruth Keeling |
| Executive Producer | Bryan Kirkwood |
| Director | Rupert Such |
| Writer | Christopher Reason |