Main content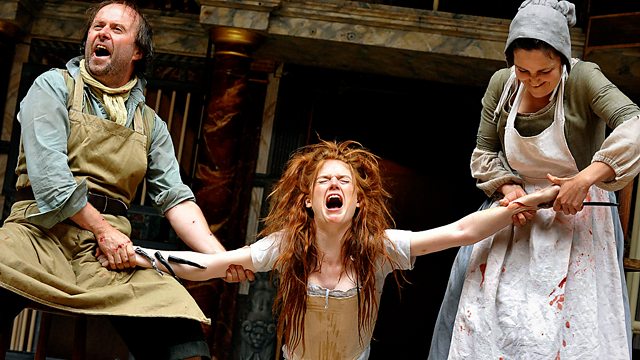 Reviews of Bedlam and The Young Ones
Reviews of new play Bedlam and TV series The Young Ones; and an interview with dancer and choreographer Akram Khan.
With Kirsty Lang
Bedlam, by Nell Leyshon, is the first play by a female playwright to be performed at The Globe, London. Set in the famous hospital, it's an exploration of madness and includes original 18th century folksongs and dances. Writer and historian Kathryn Hughes reviews.
New television series, The Young Ones, tries to recreate a landmark psychological experiment by sending six celebrities back in time. They spend a week isolated from the outside world, living as if it's 1975 to discover whether re-living your youth can really make you young again. Joan Bakewell reviews.
With the new series of Mad Men starting on BBC4 this week, we look at the office romance as a plot in drama and fiction. Interviews with playwright DC Jackson on his new play My Romantic History; writer Lucy Kellaway on her novel In Office Hours; and Russian film expert Vlad Strukov on the popular 1970s Russian film Office Romance.
Choreographer and dancer Akram Khan's latest show, Vertical Road, is a full scale contemporary ensemble which brings together performers from across Asia, Europe and the Middle East. He discusses collaborating with Nitin Sawhney on the score and how he had to create a PG version of his performance with Juliette Binoche for a Middle Eastern Audience.
Producer Gavin Heard.
Last on
Chapters
Bedlam

Bedlam

Bedlam, by Nell Leyshon, is the first play by a female playwright to be performed at The Globe, London.

Duration: 04:05

Cyrus Cylinder

Cyrus Cylinder

The Cyrus Cylinder, one of the British Museum's most prized artefacts, is on loan to Tehran for four months.

Duration: 04:10

The Young Ones

The Young Ones

New television series, The Young Ones, tries to recreate a landmark psychological experiment by sending six celebrities back in time.

Duration: 04:31

Office Romance

Office Romance

A look at the office romance as a plot in drama and fiction.

Duration: 07:53

Akram Khan

Akram Khan

Choreographer and dancer Akram Khan's latest show, Vertical Road, is a full scale contemporary ensemble which brings together performers from across Asia, Europe and the Middle East.

Duration: 07:05

Broadcast