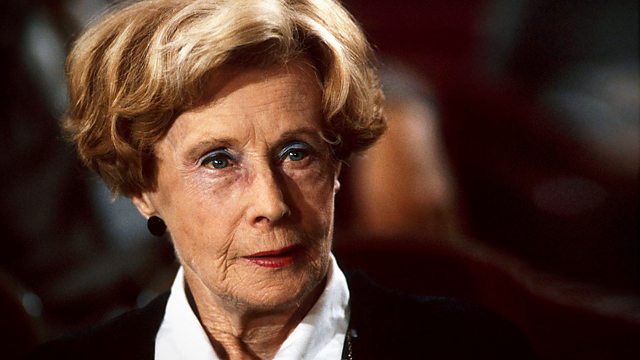 Barbara
An appraisal of Barbara Castle in the centenary of her birth.
Barbara Castle - the Red Queen, clever, sexy and single-minded she was the most important female politician the Labour party has produced.
2010 is the centenary of her birth and in this archive hour , her official biographer Anne Perkins, examines her life and legacy. The further we move from the 20th century, the more remarkable her achievements seem. In one of the ironies of politics, she paved the way for Margaret Thatcher .She embodied the spirit of the starry-eyed landslide Labour government of 1945 and was a unique participant in the history of the left.
We hear of her early life growing up in a Yorkshire family -more bourgeois than she'd admit - devoted to the Independent Labour Party and William Morris; tales of climbing out of college windows at Oxford with her friend, the pioneering broadcaster Olive Shapley; her devotion to the open air which led to the founding of the Pennine Way - she tramped the inaugural walk in a tweed skirt and brogues, alongside Hugh Dalton.
Then there were her dogged campaigns for equal pay and child benefit. And that's before we get to the breathalyser and the Unions. Her passionate skills of oratory leap out of the archive, crackling with energy and fire.She was a feminist but was always puzzled by what she saw as the "stridency" the movement took on in the seventies and initially resisted the idea of all-women shortlists.
She wasn't averse to using her great personal charm to negotiate her way out of some of the most monumental political battles of the era - dressed impeccably and no stranger to the hairdresser's. Did she stand out precisely because she was that rare creature : a colourful woman amongst all the grey suits ? Or was it her potent mix of lightning wit, passion, diligence, red bouffant and fierce intellect that helped carve out a place in history for her . And could she have achieved all she did if she'd had children?
We hear intimate archive interviews with Barbara Castle recorded before her death, and new interviews including Baroness Shirley Williams , Baroness Betty Boothroyd ,Janet Anderson , and the veteran political commentator Geoffrey Goodman.
Producer Lindsay Leonard.
Last on