Main content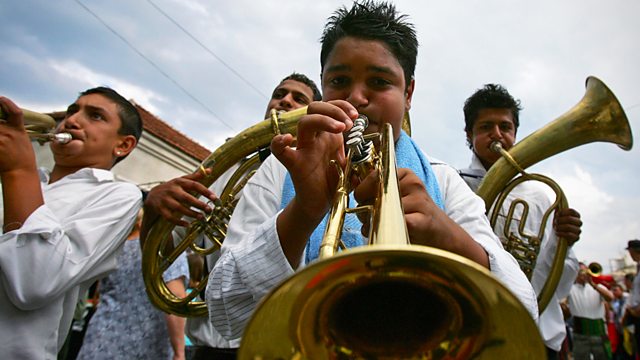 Serbian Trumpets
Composer and musician Llywelyn Ap Myrddin explores the Dragacevo Trumpet Festival, a key musical gathering in Serbia. From August 2010.
With composer and musician, Llywelyn Ap Myrddin we travel to Guca, officially the Dragacevo Trumpet Festival, a hundred miles south of Belgrade, to explore the sound and culture of this distinctly Balkan music. Played by Roma and Serbs alike, Guca is about the only place the two cultures tolerate one another.
With BBC correspondent Allan Little, the programme reports on the culture and character of the Serbs; following the history of trumpet music which, at the Guca Festival runs parallel with the history of Serbia. The festival began as an expression of Serbian culture, which the founders wanted to celebrate and which had, to some extent, along with other ethnic music through Yugoslavia, been suppressed in the big, 'we are one people' efforts of Tito .
With great emotion for their heritage set against the absorption of Serbian traditions into wider Yugoslavia, the festival became a focus for Serbian trumpeters, but since the recent civil war, other nations in the Balkans have been invited to take part.
The different styles of music create an incredible musical range; the slower, heavier Kolo originating in the West of Serbia, to the heady swirl of dissonant melodies with an oriental flavour, that comes with the Roma Orchestras in the South, to the faster Romanian dance music that originates in the east.
Crucially, music is centre stage - neither Tito or Milosevic were permitted to attend Guca Festival. We will record the great Roma trumpet players: Boban Markovic, famous worldwide for his music in Emir Kusturica's films; along with his son Marco. Sarajevo born, Goran Bregovic along with Golden trumpet winners and musicians who gather at this extraordinary event.
Producer: Kate Bland
A Just Radio production for BBC Radio 4.