Main content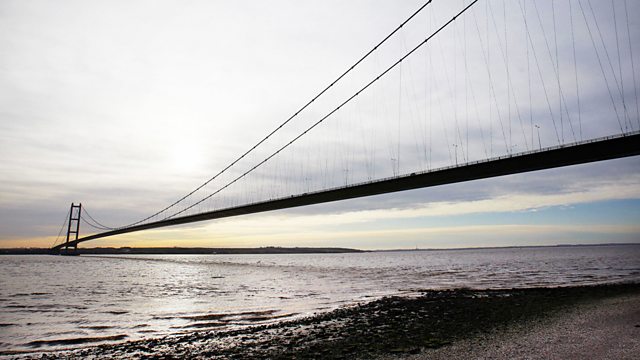 Chris Ledgard investigates the story behind the Hull North by-election of 1966. Why did Harold Wilson's government choose that moment to promise a bridge over the River Humber?
Why was the Humber Bridge built? The first major proposal for a crossing was made in 1872, but a hundred and nine years were to pass before the Queen opened the bridge across the River Humber in July 1981. The aim was to link two remote areas of England, unite the new political entity - Humberside, and attract investment on both banks of the river.
The bridge has been widely acclaimed as an architectural achievement. But it cost far more to build than originally envisaged, and traffic forecasts were optimistic. Just over a decade after the opening, its debts had reached £431 million pounds. And as Parliament debated how the money could be paid back, MPs focused on a promise made by the then Minister of Transport, Barbara Castle, on a January night in 1966. Was this really, as one Conservative member claimed, "a serious scandal...a bribe by the Labour party for the Hull North by-election"?
Harold Wilson came to office in 1964 with a majority of just five. A by-election took that down to three. Then the Labour member for Hull North died in late 1965. His majority had been slight, and the by-election arranged for January 25th 1966 was seen as the key to the future of the Wilson government. The leading figures from both major parties headed from London to Hull to speak to packed hustings. The Labour candidate, Kevin McNamara, was favourite. But opinion polls right up to the last minute suggested Toby Jessel for the Conservatives was still in the race. A week before the election, Barbara Castle made her famous speech and ended nearly a century of debate by promising the people of Hull their bridge.
In this edition of In Living Memory, we hear from the key figures in that election. Kevin McNamara and Toby Jessel discuss why the promise was made and whether it really had any political effect. A Labour party official at the centre of the discussions with Mrs Castle gives an insider's version of events. The fringe but feared candidate, the Guardian journalist Richard Gott, gives his perspective. And Sir Christopher Foster, who in January 1966 had just joined the Ministry of Transport as special advisor and chief economist, describes the ridicule he faced for allowing his minister to make a promise which, he says, made no economic sense. "It was with the greatest of embarassment" he remembers "that we learned the Humber Bridge was to be built...it was perfectly obvious that the Humber Bridge was not needed and would cost a great deal of money". The promise, he says, was made to win a by-election.
Last on
More episodes
Next
You are at the last episode
Broadcasts