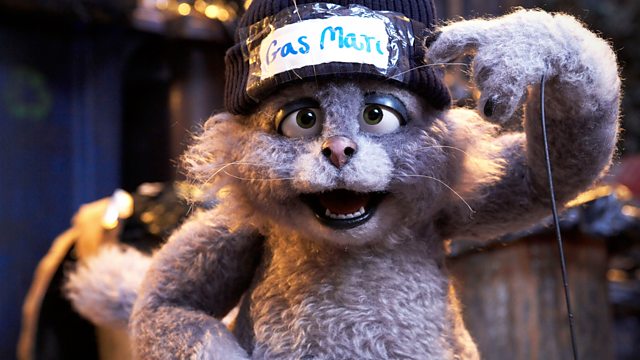 Adult multi-species puppet comedy about five urban animals who hang out together in the back yard of an inner city pub. Starring Nelson, a metrosexual fox; Destiny, a pretentious pedigree It-bitch Afghan hound; Marion, a freshly-neutered wannabe tomcat; Kali, a deeply cynical pigeon; and Vince, the neighbourhood sociopath. Created by Adam Miller, developed by Jon Brown, Adam Miller and Daniel Peak, written by Jon Brown and Daniel Peak, and featuring the voices of Rufus Jones, Lucy Montgomery, Dan Tetsell, Katy Brand, Paul Kaye and Ruth Bratt. Puppets created by Talk to the Hand.
It's 5/11 (November 5th) and Marion falls in with the wrong crowd of animals. They are determined to stop humans from celebrating bonfire night forever by blowing up the pub. It's up to Nelson to take heroic action to save Destiny from certain death.
Whilst walking in the park, Destiny is chosen to become a photographer's model. The trouble is that the photographer's idea of glamour is quite different to Destiny's.
When Kali has her wings clipped by the over-zealous firewarden Nelson, nasty neighbour Vince decides he's going to eat her. Kali must keep Vince fed, or she'll be appearing in her own version of Come Dine with Me.
Guest star: Eamonn Holmes
Song: Ugly Women are Beautiful Too.
Last on
More episodes
Next
You are at the last episode
Credits
| Role | Contributor |
| --- | --- |
| Marion (voice) | Dan Tetsell |
| Marion | Warrick Brownlow-Pike |
| Nelson (voice) | Rufus Jones |
| Nelson | Andy Heath |
| Destiny (voice) | Lucy Montgomery |
| Destiny | Richard Coombs |
| Destiny | Sue Beattie |
| Kali (voice) | Katy Brand |
| Kali | Iestyn Evans |
| Yvonne (voice) | Ruth Bratt |
| Vince (voice) | Paul Kaye |
| Gary | Tony Way |
| Photographer | Kevin Eldon |
| Additional voices | Simon Lipson |
| Himself | Eamonn Holmes |
| Puppeteer | Wim Booth |
| Puppeteer | Mandy Glass |
| Puppeteer | Matt Hutchinson |
| Puppeteer | Toby Olie |
| Puppeteer | Simon Buckley |
| Puppeteer | Yvonne Stone |
| Producer | Stephen McCrum |
| Director | Adam Miller |
| Writer | Danny Peak |