Main content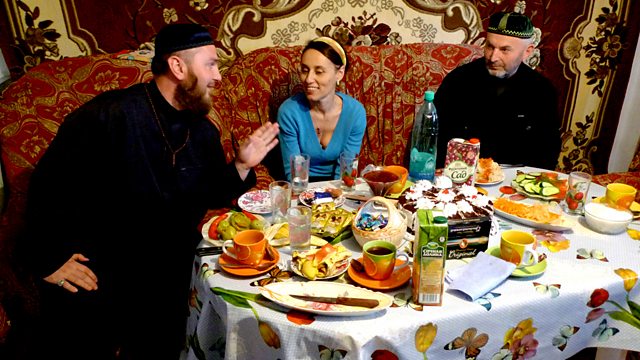 Stolen Brides
Lucy Ash investigates bride stealing in Chechnya, following two families as they struggle to negotiate a compromise over the fate of a young woman abducted in the street.
Reporter Lucy Ash travels to Chechnya to investigate the extraordinary practice of bride stealing. Young women are being kidnapped off the street and married to men they may never have met. Although officially disapproved of, this centuries-old tradition is flourishing.
From the moment a young woman is snatched, to her wedding one week later, Lucy follows the twists and turns as two families struggle to negotiate a compromise. She's also with the mullah whose job it is to arbitrate between the two families and prevent the incident spilling into bloodshed. After a week of tense negotiations, she attends the colourful wedding celebrations where it seems there are as many guns as guests.
Chechnya's President, Ramzan Kadyrov, is an ally of Moscow and governs the Republic with a firm hand. In an interview he explains he is promoting a particular Chechen interpretation of Islam. Lucy joins a state-sponsored patrol on the streets of Grozny. Its job is to persuade women to wear headscarves and dress appropriately. Lucy also meets human rights campaigners to learn how dangerous it can be to oppose the authorities.
Lucy Ash also visits the new Islamic Medical Centre. Many thousand troubled and disturbed women have been sent there for treatment. Lucy witnesses a harrowing and violent exorcism performed on a woman in an effort to cure her unhappy marriage.
What emerges is a picture of a country and its people struggling to balance the often contradictory forces of Russian Law, Islamic Sharia law and ancient Chechen tradition.
Six weeks later Lucy makes a further trip, this time to Kazakhstan, to meet up again with the newly-weds to find out how they are adapting to married life and how the bride is getting on with a husband she barely knew on her wedding day.
Clips

Credits
| Role | Contributor |
| --- | --- |
| Reporter | Lucy Ash |
| Producer | Dimitri Collingridge |
| Producer | Nick Sturdee |
| Executive Producer | Lucy Hetherington |