Main content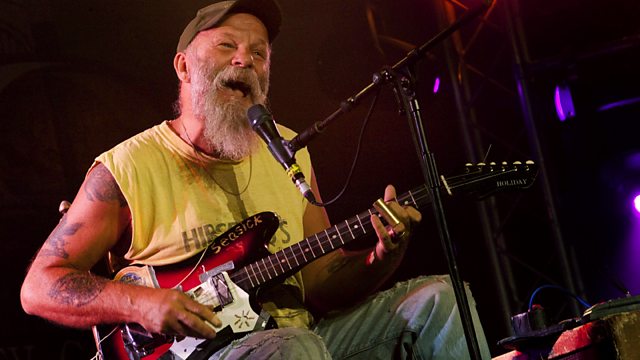 Three hours of musical highlights and interviews from the 2010 Cambridge Folk Festival, presented by Mark Radcliffe, Stuart Maconie and Mike Harding.
Mark Radcliffe, Stuart Maconie and Mike Harding present three hours of musical highlights, interviews and backstage shenanigans from the 2010 Cambridge Folk Festival. Seasick Steve, Natalie Merchant, Imelda May, Fisherman's Friends, The Unthanks and Kris Kristofferson will be amongst the guests and there will be live performances from them, and many more artists appearing at the festival, over the weekend (29 July to 1 August).
California-born, Norway-based "song and dance man" Seasick Steve has won the hearts of British music fans since breaking through in 2003/4. His captivating brand of fiery blues and the backstory of his itinerant youth make him an unmissable proposition.
Co-headliner Natalie Merchant rose to fame as the singer in eighties alt. rock band 10,000 Maniacs before pursuing an acclaimed solo career from 1993 and focusing on folk material in the early 2000s. Her latest album, Leave Your Sleep, is an expansive double LP of classic children's poetry set to music, including celtic and American old-timey influences.
Cornish shanty choir Fisherman's Friends have had a remarkable year, having signed a major label record deal and stormed the album charts at number 9 - making Port Isaac's Fisherman's Friends the highest charting album of traditional music ever. Most of the 10 members retain day jobs with the H M Coast Guard and the RNLI.
Dublin rockabilly singer Imelda May was the surprise sensation of last year's festival and is hoping to repeat the feat in the company of County Clare melodeon star Sharon Shannon.
The Unthanks - formerly known as Rachel Unthank & The Winterset - have won critical acclaim and the adoration of music fans around the country for their raw and atmospheric versions of traditional songs, mostly drawn from their Northumbrian heritage. A Nationwide Mercury Music Prize nomination in 2008 was a boost to both their and the wider British folk scene's mainstream profile.
Over more than 40 years the Cambridge Folk Festival has earned its place as one of Europe's major folk festivals, hosting the world's biggest and best names from celtic, country, roots, reggae, zydeco, rock music and beyond.