Main content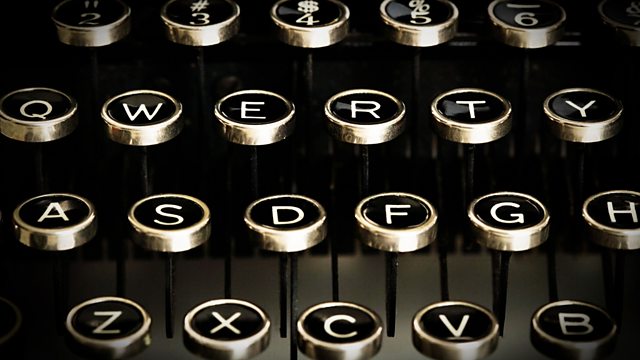 4 Extra Debut. Ancient, illogical, inefficient. Stephen Fry investigates why the Qwerty keyboard still rules how we write. From August 2010.
All rise for Judge Stephen Fry, in whose court the Qwerty keyboard stands trial.
The gravest charge against the still ubiquitous Qwerty is that the layout was designed deliberately to slow typing down.
Typists in the 1870's got too fast for their machines. The keys would easily stick. Typists would have to delve under the bonnet to untangle them.
Messy business. Dirty Mr Qwerty.
But will the charge against Qwerty stick? Invented in the 1870's before the age of ergonomics and future proofing, it was a result of a commercial race to dominate the new typewriting industry with a universal system. The father of formats. There were typewriting races too, which resembled today's motor racing. Hyped up typists, competing systems and publicity hungry manufacturers proved only one thing: the new fangled typewriting machines could be very noisy.
Alongside contributions from historians and qwerty experts, Stephen meets a man who has deqwertified himself and adopted Dvorak, a system claimed to be quicker and cleaner than Qwerty. There's also an examination of newer, more modern formats, which may be more efficient but are no match for qwerty.
We also meet some speedy junior qwertists' primary school pupils who learn to touch type as part of their curriculum. They come up an idea for the ultimate system for inputting text and in so doing demonstrate an important point about how thought relates to language, and how any system, using keyboard, pen or even speech is a compromise.
But will Qwerty be acquitted?
Producer: Nick Baker
A Testbed production for BBC Radio 4.
Last on
More episodes
Previous
You are at the first episode
Credit
| Role | Contributor |
| --- | --- |
| Producer | Nick Baker |
Broadcasts