Main content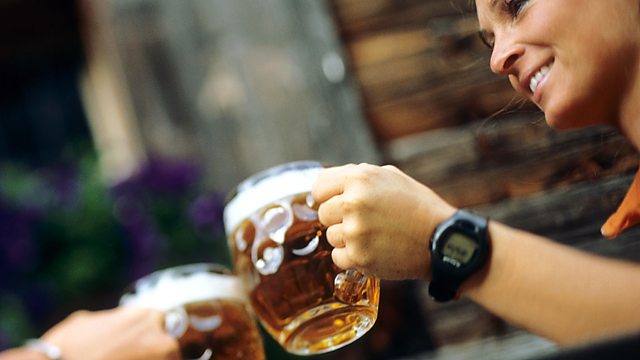 13/08/2010
Presented by Jenni Murray. Mine's a pint: the rise of female ale-drinkers. Bluegrass from south Devon: the Appalachian music of the Carrivick Sisters. Writer Tamara Chalabi.
Presented by Jenni Murray. Mine's a pint: - why more women are reclaiming real ale as their drink of choice. Beer and real ale is going through a revolution. The industry, which had been awash with cheap and cheerful lager, is welcoming back local micro-brewers . And the complex and crafted flavours combined with a sophisticated marketing campaign - and a proven track record to contain less carbs than wine - are winning over the thirsty women of Britain. We will be looking at why the number of female ale drinkers has doubled in the last two years, and Jenni will be making her own mind up, as she tries some of Britain's best flavours.
Bluegrass from Devon - The Carrivick Sisters are twins Laura and Charlotte who play the traditional mountain music of Appalachia, with a west country twist . They've been playing since their early teens and this week-end they're appearing at Saltburn festival in North Yorkshire. So what's the appeal to these young sisters of the American Roots Music made popular by the film Oh Brother Where Art Thou? Hear their Bluegrass fiddle and banjo live in the studio.
A study by The Prince's Trust Undiscovered campaign has revealed that young people from workless families are significantly more likely to struggle to find a job themselves, as well as feeling far less confident about their future. Seventy per cent have struggled to find a job, while nearly one in five (18 per cent) expect to end up on benefits because other people around them have.How do you break the cycle of inherited worklessness?
Tamara Chalabi is a descendant of one of the oldest and most prominent families in Iraq. For centuries the Chalabis have held positions of honour and responsibility, loyally serving first the Ottoman Empire and later the national government. Her latest book, Late for Tea at the Deer Palace, is the tale of her family's life in Iraq from 1900 to the present day. She joins Jenni to talk about her family and a life that's spanned both Eastern and Western cultures.
Knitted Lives - an exhibition of everyday objects knitted by women in Newcastle.
Chapters
Destined for the Dole

Young people from families where no one works are far more likely to struggle to find a job. Amilah Mirza who comes from a workless family and Michelle Dewberry, winner of 'The Apprentice' discuss.

Duration: 08:33

Tamara Chalabi

Tamara comes from one of the oldest and most prominent families in Iraq. Her book, Late for Tea at the Deer Palace finds her trying to understand her place in a family.

Duration: 08:54

Women and Beer

Melissa Cole, independent beer writer and Patsy Slevin, Head Brewster of Prospect Brewery in Wigan discuss with Jenni why the number of women ale drinkers have doubled in the last two years.

Duration: 09:29

Knitted Lives

A group of women in Newcastle found no-one was keen to wear the garments they made, so they decided to make sculptures out of wool. Clare Jenkins reports.

Duration: 07:46

The Carrivick Sisters

Bluegrass from Devon – The Carrivick Sisters are twins who play the traditional mountain music of Apallachia – with a west country twist. They play live in the studio.

Duration: 07:10