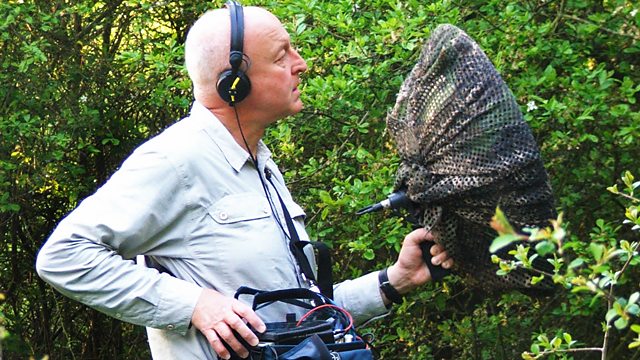 Hunt for the Nightingale's Song
When he was fourteen years old, some friends of his parents gave wildlife sound recordist, Chris Watson, The Observer's Book of Birds. Flicking through the pages, Chris was captivated by the description of a bird which sang at night. The bird was a Nightingale; and since first reading about it, Chris has been fortunate enough to hear Nightingales both in Britain and Europe but always as part of a chorus of birds.
Now, in this programme, he tries to get a microphone really close to a Nightingale to record its remarkable song - a rich, mellow series of notes.
The location is Rutland Water. There are two areas here which are regularly frequented by Nightingales - the Lyndon Reserve on the South Shore and Hambleton Wood, which is on a peninsula extending out into the Reservoir. Having been guided by the Wardens from the Nature Reserve to the areas of scrub where Nightingales have been heard singing, Chris is able to rig up microphones near potential song posts. Of course, it's not as easy as it sounds, and one bird in particular decides to play a game of Hide and Seek and switch song perches. But over the course of several nights, and using different microphone techniques, Chris is able to get closer and closer to a singing male bird - and on one occasion gets even more than he bargained for, when two males begin a vocal sparring match on adjacent territories. The result, after several sleepless nights and a battle with brambles and nettles is the most astonishing clear, beautiful recording of a Nightingale.
Despite their name, male Nightingales sing during the day and night. These birds spend their winter in Africa. The males return to Britain in April at the start of their breeding season. When they first arrive back, male birds sing to mark and defend a territory during the day. When the females return, a few days later, the unpaired males sing at night to attract a female. Neighbouring males compete with one another in a display of vocal sparring; copying and over-lapping each other's songs, each bird trying to outdo his rival. Females select their prospective mate using song as an indicator of the fitness of a male, as well as the quality of their territory. Once paired, the males continue to sing to defend their territory and keep rival males at bay. Females don't sing although they do call and are known to produce an amphibian-like 'croaking' sound.
Nightingales have a reputation for being shy, skulking creatures, difficult to see even when they are singing! In the last 30 years the population has reduced by almost half so the birds and their song are fast disappearing from our landscape. Studies by the British Trust for Ornithology, suggest that increasing pressure from deer could in part be responsible for this decline. Nightingales have very specific habitat requirements for nesting; low scrub or coppiced woodland. The rich and complex under-storey of plants such as brambles, honeysuckle and rose has been a traditional feature of coppiced woodland, providing nesting sites for Nightingales and insect-rich feeding habitats. As deer numbers have risen, this low-level vegetation and low shrubs have been increasingly reduced by browsing, often leaving a bare woodland floor and fewer hiding places for Nightingales. There may be also problems on their wintering grounds, or at some stage between the point when the birds leave the nest and reaching their southernmost wintering sites.
In Hunt for the Nightingale's Song, the story of Chris's quest to find and record a Nightingale is inter-cut with a commentary featuring Rob Thomas (Cardiff University), and Rob Fuller (British Trust for Ornithology) about the song of the Nightingale, its composition and function.
Producer Sarah Blunt.