Main content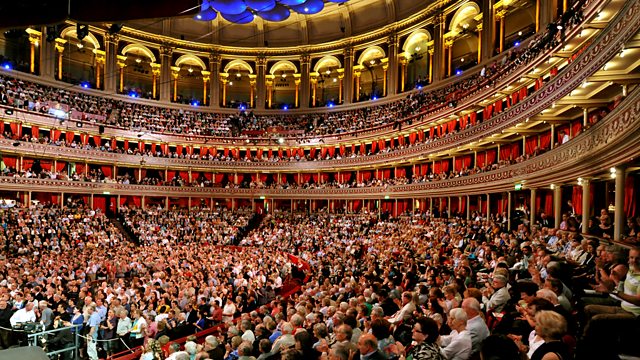 Prom 40
A Prom in which Vladimir Jurowski conducts the LPO. Mussorgsky, arr Rimsky-Korsakov: A Night on the Bare Mountain. Shostakovich: Violin Concerto No 1. Plus Scriabin and Prokofiev.
With Penny Gore.
Who better to conduct an all-Russian programme at the BBC Proms than Vladimir Jurowski, the dynamic Russian Principal Conductor of the London Philharmonic Orchestra. Tonight's concert ranges from Mussorgsky's vision of a witches' sabbath (with a bit of help from his friend Rimsky) through Scriabin's dreams, to powerhouse works by the two central Russian composers of the twentieth century. Prokofiev's hard-hitting Third Symphony uses music from his opera The Fiery Angel, while Shostakovich was writing his First Violin Concerto at the very time that the Soviet authorities announced their clampdown on music that didn't conform. Julia Fischer is the soloist, returning to the Proms after her triumphant debut with the Brahms Concerto two years ago. Presented by Martin Handley.
Musorgsky, arr. Rimsky-Korsakov: A Night on the Bare Mountain
Shostakovich: Violin Concerto No. 1 in A minor, Op. 77
Scriabin: Rêverie
Prokofiev: Symphony No. 3 in C minor
London Philharmonic Orchestra
Julia Fischer (violin)
Vladimir Jurowski (conductor)
Followed by highlights from last year's Edinburgh International Festival, including:
Bach: Cantata no. 161, "Komm, du susse Todesstunde"
Bach: Cantata no. 106, "Gottes Zeit ist die allerbeste Zeit"
Ricercar Consort.