Main content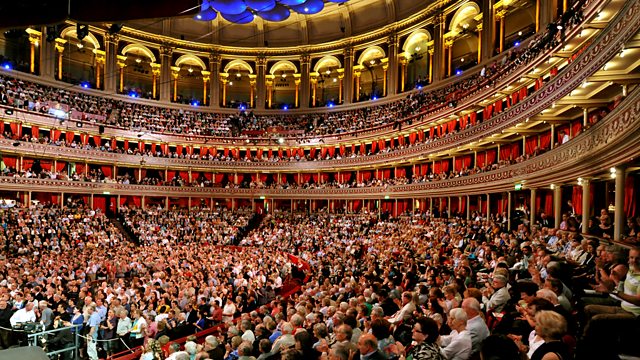 Prom 39
A Prom in which the Royal Philharmonic perform Bach arrangements by Stokowski, Sargent, Henry Wood and Respighi. Plus two Bach-inspired works and pieces by Walton and Grainger.
With Penny Gore.
Another chance to hear the grand finale to Proms Bach Day. The Royal Philharmonic Orchestra conducted by Andrew Litton play works by J S Bach in arrangements made in the last hundred years or so, ranging from the subtleties of Walton's "Wise Virgins" Suite and the playfulness of Grainger's version of "Sheep may safely graze", to the richly-scored reworkings by Stokowski, Henry Wood, Sargent, Bantock and Respighi. Plus two special commissions from young composers who have taken Bach pieces as a springboard for their compositions. Presented by Sara Mohr-Pietsch.
Bach, orch. Stokowski: Toccata and Fugue in D minor, BWV 565
Bach, orch. Henry Wood: 'Suite No. 6' - Prelude; Finale
Tarik O'Regan: Latent Manifest (BBC commission: world premiere)
Walton: The Wise Virgins - suite
Grainger: Blithe Bells
Bach, arr. Sargent: Air from Orchestral Suite No. 3 in D major, BWV 1068
Alissa Firsova: Bach Allegro (BBC commission: world premiere)
Bach, orch. Bantock: Wachet auf, ruft uns die Stimme, BWV 645
Bach, orch. Respighi: Passacaglia and Fugue in C minor, BWV 582
Royal Philharmonic Orchestra
Andrew Litton (conductor)
Followed by highlights from last year's Edinburgh International Festival, including:
Warlock: Captain Stratton's Fancy
Keel: Three salt-water ballads
Quilter: Now sleeps the crimson petal; Weep you no more; Go lovely rose; Fair house of joy
Vaughan Williams: Songs of Travel
Schumann: Die beiden Grenadiere; Widmung; Du bist wie eine Blume; Mein Wagen rollet langsam
Bryn Terfel (baritone)
Malcolm Martineau (piano).