Main content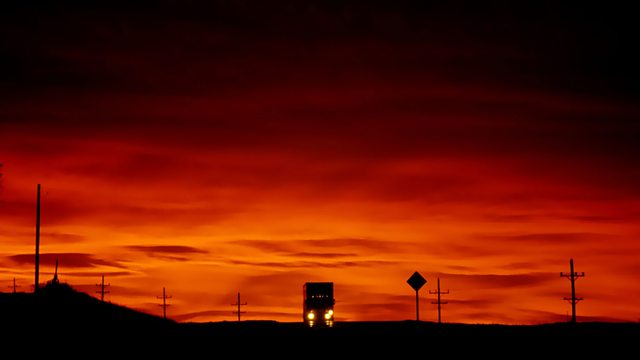 14/08/2010
Jonathan Swain presents music by Schumann, Beethoven, Pisendel, Ockeghem, Jenner, Quinault, Eckhard, Schubert, Prokofiev, Monteverdi, Abel, Josquin, Rachmaninov, Nauss, Enna, Rossi.
Jonathan Swain presents rarities, archive and concert recordings from Europe's leading broadcasters
01:01AM
Schumann, Robert (1810-1856)
Symphony No.1 in B flat major (Op.38), 'Spring'
Royal Concertgebouw Orchestra, Bernard Haitink (conductor)
01:35AM
Beethoven, Ludwig van (1770 -1827)
Concerto for piano and orchestra no. 2 (Op. 19) in B flat major
Martha Argerich (piano), Royal Concertgebouw Orchestra, Neeme Järvi (conductor)
02:05AM
Pisendel, Johann Georg (1687-1755)
Sonata in C minor for violin & basso continuo (attributed to J.S. Bach as BWV.1024)
Barbara Jane Gilbey (violin), Sue-Ellen Paulsen (cello), Geoffrey Lancaster (harpsichord)
02:20AM
Ockeghem, Johannes (c.1410-1497)
Intemerata Dei mater
02:28AM
Ave Maria
The Hilliard Ensemble
02:33AM
Jenner, Gustav Uwe (1865-1920)
Trio in E flat for Clarinet, Horn and Piano (1900)
James Campbell (clarinet), Martin Hackleman (horn), Jane Coop (piano)
03:01AM
Quinault, Jean-Baptiste (1687-1745)
Overture and Dances - from the Comedy 'Le Nouveau Monde' (1723)
L'Ensemble Arion
03:10AM
Urbaitis, Mindaugas (b. 1952)
Lacrimosa
Lithuanian State Chamber Choir, Sigitas Vaiciulionis (conductor)
03:15AM
Eckhard, Johann Gottfried (1735-1809)
Sonata in F major, Op.2/1
Arthur Schoonderwoerd (fortepiano after Sebastian Lengerer, 1793 [Austrian / S. German] piano in the Finchcocks collection in Kent, England)
03:30AM
Schubert, Franz (1797-1828)
Quintet for 2 Violins, Viola and 2 Cellos in C major (D.956)
Artemis Quartet
04:21AM
Prokofiev, Sergey (1891-1953)
Symphony No.1 in D major (Op.25)
Royal Concertgebouw Orchestra, Karel Ancerl (conductor)
04:35AM
Cabezon, Antonio de (1510-1566)
Duvincela. Chanson-Intavolierung
Roland Götz (spinet)
04:38AM
Monteverdi, Claudio (1567-1643)
Magnificat II
Choir of Swiss Radio, Lugano, Diego Fasolis (conductor)
04:49AM
Delius, Frederick (1862-1934) ed. Eric Fenby
La Calinda - concert version for orchestra from 'Koanga'
BBC Concert Orchestra, Stephen Cleobury (conductor)
04:53AM
Zarzycki, Aleksander (1834-1895)
Mazurka in G major, for violin and piano (Op.26)
Monika Jarecka (violin), Krystyna Makowska (piano)
05:01AM
Abel, Carl Friedrich (1723-1787)
Symphony (Op.10 No.2)
La Stagione Frankfurt, Michael Schneider (conductor)
05:12AM
Desprez, Josquin (ca.1440-1521)
Absolve, quaesumus, Domine/Requiem aeternam
Huelgas Ensemble, Paul Van Nevel (conductor)
05:17AM
Rachmaninov, Sergey (1873-1943)
Piano Concerto no.1 in F sharp minor (Op.1)
Arthur Ozolins (piano), Toronto Symphony Orchestra, Mario Bernardi (conductor)
05:45AM
Irgens-Jensen, Ludvig (1894-1969)
Japanischer Frühling
Ragnhild Heiland Sørensen (soprano), Stavanger Symphony Orchestra, Steven Sloane (conductor)
06:09AM
Aufschnaiter, Benedict Anton (1665-1742)
Ouverture & Entrée from Serenade No.3 in G minor
06:14AM
Menuett, Gavotta and Menuett from Serenade No.3 in G minor [both from 'Concors discordia amoris et timoris augusti et serenissimi Romanorum regis Josephii' Nürnberg 1695]
L'Orfeo Barockorchester, Michi Gaigg (director)
06:17AM
Nauss, Johann Xaver (c. 1690-1764)
Praeludium Terti Toni from 'Die spielende Muse'
Jaroslav Tuma (1682 / 1829 organ of the Minorite monastery church of Cesky Krumlov)
06:31AM
HÃ¥kanson, Knut (1887-1929). Lyrics by Karlfeldt, Erik Axel
Stjärngossar (Starboys) - from 3 Karlfelt Partsongs (Op.39)
Swedish Radio Choir, Eric Ericson (conductor)
06:33AM
Enna, August (1859-1939)
Klaverstykker (piano pieces): No.2 Waltz, No.3 Intermezzo
Ida Cernecka (piano)
06:41AM
Novacek, Ottokar Eugen (1866-1900)
Perpetuum Mobile (orig. for violin and orchestra)
Moshe Hammer (violin), Valerie Tryon (piano)
06:44AM
Rossi, Salomone (c.1570-1630)
Rimanti in pace for 5 voices [from 'Il primo libro de madrigali', 1600], prima parte
Katelijne van Laethem (soprano), Pascal Bertin (alto), Eitan Sorek, Josep Benet (tenors), Josep Cabre (baritone), Ensemble Daedalus, Roberto Festa (conductor)
06:51AM
Improvisation
Improvisation on 'Guardame las vacas'
06:54AM
Improvisation
Two Improvisations on 'La Folia' & 'Passamezzo moderno'
Labyrinto.