Main content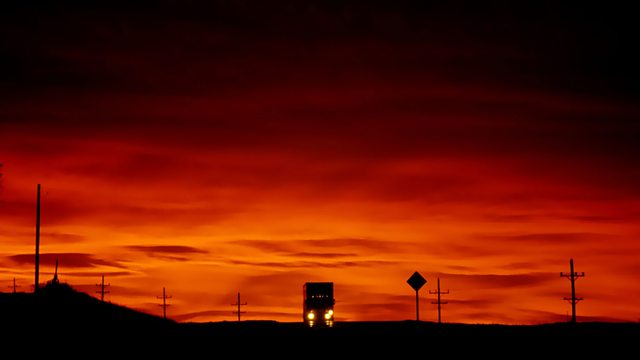 13/08/2010
Jonathan Swain presents music by Ravel, Massenet, Delibes, Prokofiev, Reger, Fux, Beethoven, Berio, Paganini, Bach, Groneman, Rozycki, Larsson, Schumann, Vivaldi, Brahms, Albrecht.
Jonathan Swain presents rarities, archive and concert recordings from Europe's leading broadcasters
1:01 AM
Ravel, Maurice [1875-1937]
Le Tombeau de Couperin for orchestra [after nos. 1, 3, 5 & 4 of piano work]
Norwegian Radio Orchestra, Antoni Ros Marba
1:20 AM
Ravel, Maurice [1875-1937] libretto by Colette [1873-1954]
Air du Feu, from 'L'Enfant et les sortilèges'
1:23 AM
Ravel, Maurice [1875-1937]
Vocalise en forme de Habanera
1:27 AM
Massenet, Jules [1842-1912]
Excerpts from Manon
1:33 AM
Delibes, Léo [1836-1861]
Portons toujours des robes sombres (Le Roi l'a dit)
1:36 AM
Delibes, Léo [1836-1861]
Les Filles de Cadix
Eir Inderhaug (soprano) Norwegian Radio Orchestra, Antoni Ros Marba
1:42 AM
Schubert, Franz [1797-1828]
Symphony no. 2 (D.125) in B flat major
Norwegian Radio Orchestra, Antoni Ros Marba
2:12 AM
Prokofiev, Sergey (1891-1953)
Sonata for Piano no. 7 (Op. 83) in B flat major
Shura Cherkassky (piano)
2:30 AM
Reger, Max (1873-1916)
Four Tone Poems after Arnold Böcklin (Op.128)
Philippe Koch (violin), Luxembourg Philharmonic Orchestra, Olaf Henzold (conductor)
3:01 AM
Fux, Johann Joseph (1660-1741)
Turcaria
Armonico Tributo Austria, Lorenz Duftschmid (director)
3:13 AM
Schubert, Franz [1797-1828]
Quintet for piano, violin, viola, cello & db (D.667) in A major "Trout"
Aronowitz Ensemble
3:47 AM
Beethoven, Ludwig van (1770-1827)
Five Scottish and Irish Folksongs (WoO.152/20)
Stephen Powell (tenor soloist in No.1), Lorraine Reinhardt (soprano soloist in No.3), Linda Lee Thomas (piano), Gwen Thompson (violin), Eugene Osadchy (cello), Vancouver Chamber Choir, Jon Washburn (conductor)
4:02 AM
Berio, Luciano (1925-2003)
Folk Songs (1964) for mezzo-soprano and 7 players
Jean Stilwell (mezzo-soprano), Canadian Chamber Ensemble, Raffi Armenian (conductor)
4:25 AM
Ravel, Maurice (1875-1937)
Pavane pour une infante défunte [orig for piano]
Melbourne Symphony Orchestra, Jorge Mester (conductor)
4:33 AM
Paganini, Niccolò (1782-1840)
Duetto Amoroso for violin and guitar
Tomaz Lorenz (violin), Jerko Novak (guitar)
4:43 AM
Skjavetic, Julije [Schiavetti, Giulio] (16th century Croatian composer), transcr. Dr Lovro Zupanovic
Madrigal: O dolce amore (O sweet love)
Slovenian Chamber Choir, Vladimir Kranjcevic (director)
4:45 AM
Bach, Johann Sebastian (1685-1750)
Concerto for oboe d'amore and string orchestra No.4 (BWV.1055) in A major
Kalin Panayotov (oboe d'amore), Ars Barocca
5:01 AM
Anonymous
Greensleeves, to a Ground with Divisions
Elizabeth Wallfisch (Baroque violin), Rosanne Hunt (cello), Linda Kent (harpsichord)
5:06 AM
Byrd, William (c.1543-1623)
Susanna fair
Emma Kirkby (soprano), The Rose Consort of Viols
5:10 AM
Groneman, Johannes Albertus (1710-1778)
Sonata for 2 flutes in G major
Jed Wentz and Marion Moonen (flutes)
5:19 AM
Rózycki, Ludomir (1884-1953)
Symphonic Poem: Mona Lisa Gioconda (Op.31)
National Polish Radio Symphony Orchestra, Wojciech Czepiel (conductor)
5:29 AM
Larsson, Lars-Erik (1908-1986)
Concertino for Piano and Strings (Op.45 No.12) (1957)
Mårten Landström (piano), Members of Upsala Chamber Soloists
5:45 AM
Schumann, Robert [1810-1856]
6 Songs (Op.107
Jan Van Elsacker (tenor), Claire Chevallier (fortepiano) [playing a Christopher Clarke 2000 facsimilie from Conrad Graf, Wien 1826]
5:56 AM
Vivaldi, Antonio (1678-1741)
Concerto in D major (RV.208), 'Grosso mogul'
Elizabeth Wallfisch (baroque violin), Australian Brandenburg Orchestra, Paul Dyer (director)
6:11 AM
Brahms, Johannes (1833-1897)
Sonata for Cello and piano No.1 (Op.38) in E minor
Monica Leskhovar (cello), Ivana Schwartz (piano)
6:36 AM
Albrecht, Alexander (1885-1958), arranged by Ladislav Holoubek
Suite for Big Orchestra
Slovak Radio Symphony Orchestra in Bratislava, Oliver Dohnányi (conductor).