Main content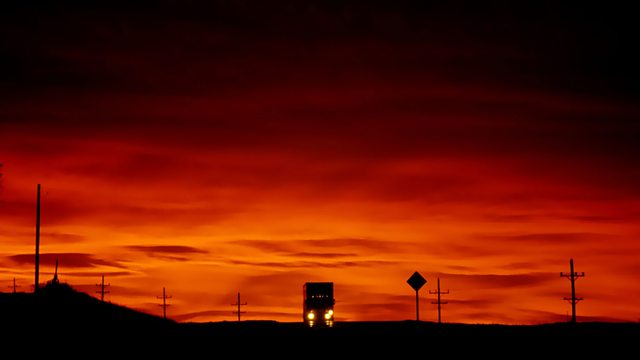 09/08/2010
Jonathan Swain presents music by Stravinsky, Scott, Gershwin, Bernstein, Shostakovich, Martinu, Telemann, Hildegard of Bingen, Sibelius, Wagner, Kodaly, Liszt, Bartok and Debussy.
Jonathan Swain presents rarities, archive and concert recordings from Europe's leading broadcasters
01:01AM
Martinu, Bohuslav (1890-1959)
Symphony no.1
Prague Radio Symphony Orchestra, Vladimir Válek (conductor)
01:40AM
Stravinsky, Igor (1882-1971)
Rag-time for 11 instruments
Canadian Chamber Ensemble, Raffi Armenian (conductor)
01:46AM
Scott, James Sylvester (1885-1938)
Paramount Rag (1917)
Donna Coleman (piano)
01:49AM
Lamb, Joseph Francis (1887-1960)
Ragtime Nightingale
Donna Coleman (piano)
01:55AM
Gershwin, George (1898-1937) arr. Lundin
Rhapsody in Blue
Bengt-Åke Lundin (piano), New Stenhammar String Quartet
02:12AM
Bernstein, Leonard (1918-1990)
Overture from Candide
Netherlands Radio Symphony Orchestra, Richard Dufallo (conductor)
02:18AM
Shostakovich, Dmitry (1906-1975) arr. unknown
Waltz no.2 from Suite for jazz band no.2 (1938)
Eolina Quartet
02:23AM
Martinů, Bohuslav (1890-1959)
Sonatina for clarinet and piano (1956)
Valentin Uriupin (clarinet), Yelena Komissarova (piano)
02:35AM
Martinů, Bohuslav (1890-1959)
Symphony no.2
Prague Radio Symphony Orchestra, Vladimir Válek (conductor)
03:01AM
Stadlmayr, Johann (c.1580-1648)
Ave Maris Stella
Capella Nova Graz, Otto Kargl (conductor)
03:07AM
Telemann, Georg Philipp (1681-1767)
Overture (Suite) in D major 'Darmstadt' (TWV.55:d15)
Bergen Philharmonic Orchestra, Roy Goodman (conductor)
03:28AM
Dagincour, Francois (1684-1758)
Le Colin-maillard
Couperin, Francois (1668-1733)
Le Tic-toc-choc from Pièces de clavecin (ordre no.18)
Colin Tilney (harpsichord)
03:33AM
Hildegard of Bingen (1098-1179)
O clarissima Mater (respond)
Rondellus
03:43AM
Madetoja, Leevi (1887-1947)
Dance Vision (Tanssinäky) (Op.11)
Finnish Radio Symphony Orchestra, Jorma Panula (conductor)
03:51AM
Kuula, Toivo (1883-1918)
Suru (Sorrow) (Op.22 No.2)
Arto Noras (cello), Tapani Valsta (piano)
03:58AM
Suolahti, Heikki (1920-1936)
Sinfonia Piccola (1935)
Finnish Radio Symphony Orchestra, Kari Tikka (conductor)
04:20AM
Sibelius, Jean (1865-1957)
Rakastava (The Lover) (Op.14)
Pirkko Törnqvist-Paakkanen (soprano), Jouni Kuorikoski (baritone), Finnish Radio Chamber Choir, Eric-Olof Söderström (conductor)
04:27AM
Wagner, Richard (1813-1883)
Overture from Tannhäuser
BBC Philharmonic, Vassily Sinaisky (conductor)
04:42AM
Pezel, Johann Christoph (1639-1694) arr. Romm
Suite of German dances
Canadian Brass
04:50AM
Wassenaer, Count Unico Wilhelm van (1692-1766)
Concerto armonico no.6 in E flat major
Combattimento Consort Amsterdam, Jan Willem de Vriend (conductor)
05:01AM
Haydn, Joseph (1732-1809)
2 Marches for wind band - 1. Hungarian National March (H.8.4); 2. March for the Prince of Wales (H.8.3)
Bratislava Chamber Harmony, Justus Pavlík (director)
05:07AM
Schubert, Franz (1797-1828)
Symphony no.4 (D.417) in C minor 'Tragic'
The Radio Bratislava Symphony Orchestra, Ondrej Lenárd (conductor)
05:36AM
Kodály, Zoltán (1882-1967)
Sonatina for cello & piano
László Mező (cello), Lóránt Szücs (piano)
05:46AM
Liszt, Franz (1811-1886)
Il m'aimait tant! (S.271)
Katalin Szőkefalvi-Nagy (soprano), Magda Freymann (piano)
05:53AM
Jeney, Zoltán (b.1943)
Bird Tempting
Girls Choir of Győr, Miklos Szabo (conductor)
06:00AM
Kaufman, Nikolai (b.1925)
Two Humorous Folk Songs
Bulgarian Radio Children's Choir, Hristo Nedyalkov (conductor)
06:04AM
Bartók, Béla (1881-1945)
3 Hungarian folksongs from the Csík district for piano (Sz.35a)
Zoltán Kocsis (piano)
06:08AM
Járdányi, Pál (1920-1966)
Fantasy and variations on a Hungarian folksong
Wind quintet of the Hungarian Radio Orchestra
06:21AM
Molique, Bernhard (1802-1869) transc. Regondi arr. Petric/Goodman
6 Songs without words
Joseph Petric (accordion), Erica Goodman (harp)
06:34AM
Debussy, Claude (1862-1918)
Jardins sous la pluie (No.3 from Estampes)
Leif Ove Andsnes (piano)
06:38AM
Boieldieu, Adrien (1775-1834)
Concerto for harp and orchestra in C major
Suzanna Klintcharova (harp), Sofia Philharmonic Orchestra, Dimitar Manolov (conductor).