Main content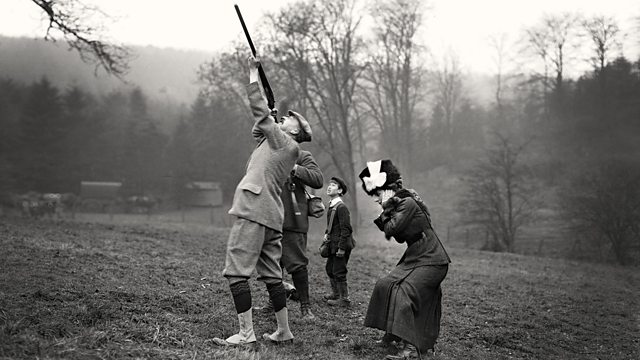 4 Extra Debut. Autumn 1913 at a country house party - English society is under the microscope, soon to be destroyed in the trenches. Stars Olivia Colman and Sam Dale.
by Isabel Colegate, dramatised by DJ Britton, narrated by Olivia Colman
Autumn 1913. A shooting party on an Oxfordshire country estate. A whole society under the microscope, a society soon to be destroyed in the trenches of the Western Front.
The eve of the shoot.
Cast
Narrator ..... Olivia Colman
Cicely Nettleby ..... Ellie Kendrick
Sir Randolph Nettleby ..... Sam Dale
Olivia Lilburn ..... Jaimi Barbakoff
Lionel Stephens ..... Michael Shelford
Minnie Nettleby ..... Christine Kavanagh
Osbert Nettleby ..... Joshua Swinney
Lord Gilbert Hartlip ..... Sean Baker
Aline Hartlip ..... Sally Orrock
Directed by Jessica Dromgoole
It was an error of judgement that resulted in a death. It took place in the autumn before the outbreak of what used to be known as the Great War.
Autumn 1913 and Sir Randolph Nettleby has invited guests to the biggest shoot of the season on his Oxfordshire country estate. We follow the action from one evening to the next, a dinner, a morning's shoot, a lunch, the fatal afternoon, and the fallout. An army of servants and gamekeepers has rehearsed the intricate age-old ritual of the hunt. Everything about it would seem a perfect affirmation of the certainties of Edwardian country life. Yet, their social and moral code is under siege from within and without. Competition beyond the bounds of sportsmanship, revulsion at the slaughter of animals, anger at the inequities of class - these and other forces are about to rise up and challenge the social order, an order that can last only a while longer. Funny, compassionate, sobering and dispassionate, the last throes of feudal England are recorded in perfect detail, together with the germ of its destruction. The book is an exquisitely written hymn to the passing of an age.
More episodes
Previous
You are at the first episode