Main content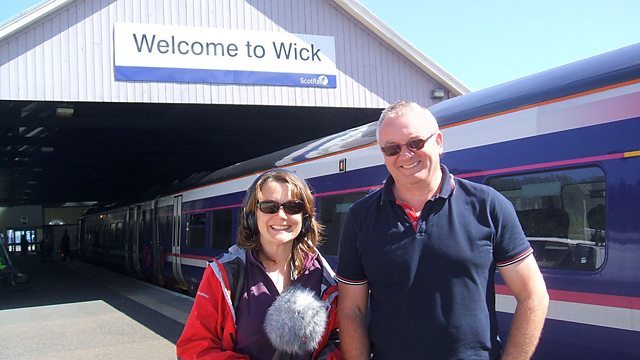 24/07/2010
Why head West when you could go North? Mark Stephen takes a train and explores the overlooked North, from the peatbogs of Caithness to the dolphins of the Cromarty Firth.
First stop on the Far North Line between Inverness and Wick, is the town of Beauly, named such by Mary Queen of Scots in 1564 who declared on arrival, 'C'est un beau lieu' - or, 'Fit a bonnie Place'.
Denise Glass takes a trip out onto the Cromarty Firth and gets a glimpse of the dolphins who live there.
We take a look at some of the Pictish remains dotted around Easter Ross.
One of the highlights are the Falls of Shin, a place you are guaranteed to see salmon jumping.
The Loch Fleet National Nature Reserve is just bursting with important wildlife, flora and fauna including - we think - a wildcat.
The abandoned cliffside village of Badbea, just north of Helmsdale, is a particularly poignant example of the hardship crofters endured after being cleared from the Straths of Sutherland in the 19th Century.
The railway takes us inland once again, through the Strath of Kildonan, famous for the shortlived Gold Rush of 1868.
It's not long before the landscape changes again as we enter the Flow Country reputed to be the World's largest peatbog and now an RSPB Reserve.
Beyond the wilderness of Forsinard, we emerge into the fertile Caithness known locally as 'Big Sky Country'.
Our final destination is Wick, once the biggest herring port in the world. A journey of contrasts covering 161 miles in four and a half miles.