Main content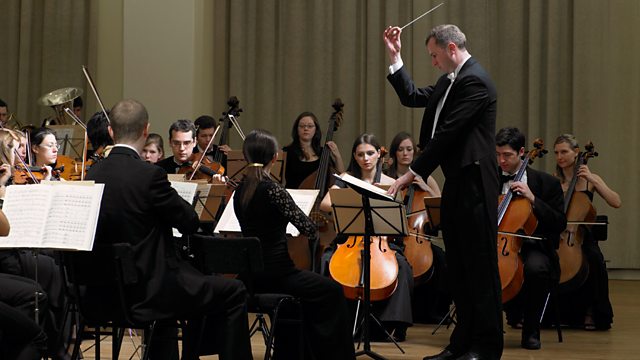 The Orchestra
Improvised play about an orchestra. How will conductor David Adams regain his self-belief after a crisis of confidence leaves him feeling unable to return to the podium?
An improvised play based on documentary interviews with real orchestral players, conductors and managers.
Devised, directed and produced by Rosie Boulton.
David Adams is halfway through a five year contract as Principal Conductor of the Philharmonic Orchestra when things start to go wrong. A row with the brass section leads to a dressing down by the Board. Suddenly David is experiencing a deep crisis of confidence. How did this happen and will he be able to recover his self-belief sufficiently to return to the podium and win the orchestra back?
This improvised drama sheds light on the controlled and controlling world of orchestral life whilst exploring universal themes of leadership, self-belief and job satisfaction.
The intention of this drama is to be as accurate and true to the orchestral experience as possible and it was conceived using frank and revealing interviews with those currently working in the orchestral field. Bringing Colin Metters, Head of Conducting at the Royal Academy of Music into the cast is another means of achieving real insight into this very particular world.
Cast
Principal Conductor: David Adams - Philip Franks
Conductor's Wife: Kate Adams - Christine Kavanagh
Leader of the Orchestra: Patrick Hardy - Julian Rhind-Tutt
Principal Horn: Marie Cherrington - Hayley Doherty
2nd Trumpet: Sean Jackson - George Irving
Conductor's advisor: Harry Bennett - Colin Metters
Guest conductor: Marc Altschuler - Rumon Gamba
Actuality of rehearsal provided by BBC Philharmonic, conductor Rumon Gamba.
Last on