Main content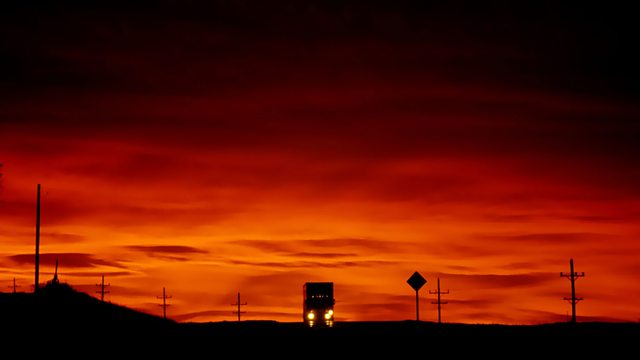 04/08/2010
Susan Sharpe presents music by Puccini, Ferrabosco, Brahms, Scarlatti, Liszt, Castello, Berezovsky, Carmichael, Durante, Spohr, Durufle, Faure, Corigliano, Vivaldi, Dukas and Grieg.
Susan Sharpe presents rarities, archive and concert recordings from Europe's leading broadcasters
1:01 AM
Puccini, Giacomo (1858-1924)
Messa di Gloria
Boyko Tsvetanov (tenor), Alexander Krunev (baritone), Dimitar Stanchev (bass), Bulgarian National Radio Mixed Choir, Bulgarian National Radio Symphony Orchestra, Milen Nachev (conductor)
1:45 AM
Ferrabosco, Alfonso (c1578-1628)
Pavan and Fantasie
Nigel North (lute)
1:52 AM
Brahms, Johannes (1833-1897)
Trio for violin, viola and piano (Op.40) in E flat major
Baiba Skride (violin), Linda Skride (viola), Lauma Skride (piano)
2:22 AM
Scarlatti, Domenico (1685-1757)
Sonata in B minor (Kk.87)
Andreas Staier (harpsichord)
2:29 AM
Haydn, Joseph (1732-1809)
Symphony No.100 (H.1.100) in G major, 'Military'
New Zealand Symphony Orchestra, Mark Taddei (conductor)
2:53 AM
Strauss, Richard (1864-1949)
Die Gottin im Putzzimmer
Danish National Radio Choir, Stefan Parkman (conductor)
3:01 AM
Mozart, Wolfgang Amadeus (1756-1791)
Quintet in E flat major for piano, oboe, clarinet, horn and bassoon (K.452)
Anton Kuerti (piano), James Mason (oboe), James Campbell (clarinet), James McKay (bassoon), James Somerville (horn)
3:25 AM
Grieg, Edvard (1843-1907)
Gammelnorsk Romance met Variasjoner [Old Norwegian Romance with Variations] - orig for 2 pianos arr for orchestra (Op.51)
Bergen Philharmonic Orchestra, Ole Kristian Ruud (conductor)
3:50 AM
Liszt, Franz (1811-1886)
Funerailles - from Harmonies Poetiques et Religieuses: 10 pieces for piano (S.173 No.7)
Francois-Frederic Guy (piano)
4:04 AM
Castello, Dario (first half of c.17th)
Sonata IV, for 2 violins and continuo
Il Giardino Armonico, Giovanni Antonini (director)
4:12 AM
Berezovsky, Maxim Sosontovitch (1745-1777)
Do not reject me (Ps.70)
The Seven Saints Chamber Choir, Dimitar Grigorov (conductor)
4:21 AM
Carmichael, John (b. 1930) (arr. Michael Hurst)
A Country Fair
Jack Harrison (clarinet), West Australian Symphony Orchestra, Richard Mills (conductor)
4:30 AM
Chopin, Frederic (1810-1849)
Scherzo No.2 in B flat, Op.31
Ronald Brautigam (fortepiano) [Brautigam plays on an 1842 Erard Grand Piano. Recorded in 1992]
4:40 AM
Strauss, Richard (1864-1949)
Aria: 'Was erblicke ich?' - from the opera 'Daphne' (Op.82)
Ben Heppner (tenor), Toronto Symphony Orchestra, Andrew Davis (conductor)
4:49 AM
Durante, Francesco (1684-1755)
Concerto per quartetto for strings No.3 in E flat major
Concerto Koln
5:01 AM
Spohr, Louis (1784-1859)
Fantasy, Theme and Variations a theme of Danzi in B minor (Op.81)
Laszlo Horvath (clarinet), New Budapest String Quartet
5:09 AM
Durufle, Maurice (1902-1986)
Quatre motets sur des themes gregoriens (Op.10)
Talinn Music High School Chamber Choir, Evi Eespere (director)
5:17 AM
Faure, Gabriel (1845-1924)
Nocturne No.1 in E flat minor (Op.33 No.1)
Jean-Yves Thibaudet (piano)
5:26 AM
Corigliano, John (b. 1938)
Elegy for orchestra
CBC Vancouver Orchestra, Mario Bernardi (conductor)
5:35 AM
Vivaldi, Antonio (1678-1741)
Trio Sonata No.12 in D minor, RV.63 'La Folia'
Il Giardino Armonico
5:45 AM
Bach, Johann Sebastian (1685-1750)
Flute Sonata in A major for transverse flute (BWV.1032)
Bart Kuijken (flute), Gustav Leonhardt (harpsichord)
6:00 AM
Dukas, Paul (1865-1935)
La Peri - poeme danse
Radio Philharmonic Orchestra, Netherlands, Jean Fournet (conductor)
6:22 AM
Chopin, Frederic (1810-1849)
Andante Spianato and Grande Polonaise brillante (Op.22)
Janina Fialkowska (piano), Kitchener-Waterloo Symphony Orchestra, Raffi Armenian (conductor)
6:37 AM
Grieg, Edvard (1843-1907)
Holberg Suite for string orchestra (Op.40)
Stavanger Symphony Orchestra, Eivind Aadland (conductor).