Main content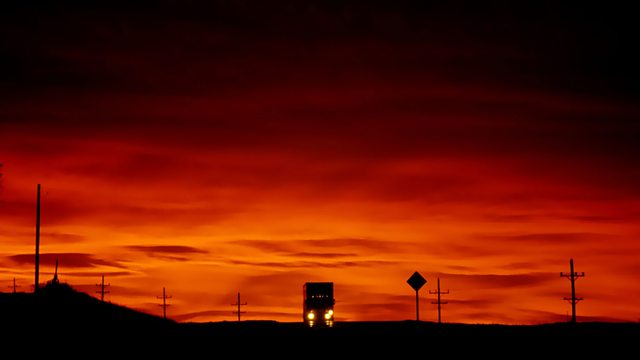 03/08/2010
Susan Sharpe presents music by Berlioz, Sibelius, Beethoven, Jacob, Scarlatti, Saint-Saens, Durante, Milhaud, Fischer, Handel, Haydn, Janacek, Debussy, Brahms and Mozart.
Susan Sharpe presents rarities, archive and concert recordings from Europe's leading broadcasters
1:01 AM
Berlioz, Hector (1803-1869)
Le Carnaval romain - overture (Op.9)
Luxembourg Philharmonic Orchestra, Jukka-Pekka Saraste
1:10 AM
Khachaturian, Aram (Ilyich) [1903-1973]
Concerto for violin and orchestra in D minor
Sergey Khatchatryan (violin) Luxembourg Philharmonic Orchestra, Jukka-Pekka Saraste
1:49 AM
Sibelius, Jean [1865-1957]
Symphony no. 5 (Op.82) in E flat major
Luxembourg Philharmonic Orchestra, Jukka-Pekka Saraste
2:21 AM
Beethoven, Ludwig van (1770-1827)
String Trio in G (Op.9 No.1)
Trio Aristos
2:45 AM
Jacob, Gordon (1895-1984)
5 Pieces arranged for harmonica and strings Gianluca Littera (harmonica), I Cameristi Italiani
3:01 AM
Scarlatti, Domenico (1685-1757)
Stabat mater for 10 voices, organ and basso continuo in C minor
Danish National Radio Chorus, Soren Christian Vestergaard (organ), Bo Holten (conductor)
3:25 AM
Kilar, Wojciech (b. 1932)
Piano Concerto
Peter Jablonski (piano), Polish Radio Symphony Orchestra, Wojciech Rajski (conductor)
3:50 AM
Saint-Saens, Camille (1835-1921)
Havanaise for violin and orchestra (Op.83)
Moshe Hammer (violin), Winnepeg Symphony Orchestra, Kazuhiro Koizumi (conductor)
4:00 AM
Durante, Francesco (1684-1755)
Concerto per quartetto for strings No.3 in E flat major
Concerto Koln
4:11 AM
Milhaud, Darius (1892-1974)
3 Psaumes de David (Op.339) (No.1 Psalm 51 [Vulgate no.50] - No.2 Psalm 50 - No.3 Psalms 114 and 115
Elmer Iseler Singers, Elmer Iseler (conductor)
4:20 AM
Fischer, Johann Caspar Ferdinand (c.1670-1746)
Euterpe (Suite in F major)
Leen de Broekert (organ) [Johannes and Andries Duyshot 1707 for the Lutherse Kerk in the Suikerpoort]
4:31 AM
Handel, Georg Frideric (1685-1759)
Sonata in A major Blagoj Angelovski (trumpet), Velin Iliev (organ)
4:41 AM
Scarlatti, Alessandro (1660-1725), Text by Guarini
Cor mio, deh non languire [Dear heart, I prithee do not waste away]
The Consort of Musicke, Anthony Rooley (director)
4:47 AM
Haydn, Joseph (1732-1809)
Trio for keyboard and strings in F major (H.15.4)
Moscow Trio
5:01 AM
Groneman, Albertus (c.1710-1778)
Concerto in G major for flute, 2 violins and basso continuo
Jed Wentz (flute), Manfred Kraemer and Laura Johnson (violins), Musica ad Rhenum
5:15 AM
Coulthard, Jean (1908-2000)
Four Irish Songs orch. Michael Conway Baker
Linda Maguire (mezzo-soprano), CBC Vancouver Orchestra, Mario Bernardi (conductor)
5:25 AM
Janacek, Leos (1854-1928)
Pohodka [Fairy tale] for cello and piano [1910]
Elizabeth Dolin (cello), Francine Kay (piano)
5:37 AM
Debussy, Claude (1862-1918)
Prelude a l'apres-midi d'un faune
Saarbrucken Radio Symphony Orchestra, Marcello Viotti (conductor)
5:48 AM
Brahms, Johannes (1833-1897)
6 Quartets for chorus and piano (Op.112)
Danish National Radio Choir, Bengt Forsberg (piano), Stefan Parkman (conductor)
5:59 AM
Haydn, Joseph (1732-1809)
Symphony no. 96 in D major 'Miracle' (H.1.96)
Bergen Philharmonic Orchestra, Ilan Volkov (conductor)
6:22 AM
Albert, Heinrich (1604-1651)
Musikalische Kurbishutte
Cantus Colln, Musica Alta Ripa, Konrad Junghanel (lute/conductor)
6:35 AM
Mozart, Wolfgang Amadeus (1756-1791)
Quintet for piano, oboe, clarinet, bassoon and horn (K.452) in E flat major
Douglas Boyd (oboe), Hans Christian Braein (clarinet), Kjell Erik Arnesen (french horn), Per Hannisal (bassoon), Andreas Staier (piano).