Main content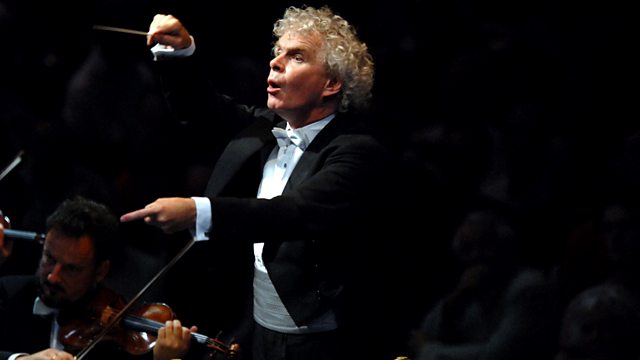 Sir Simon Rattle conducts the Orchestra of the Age of Enlightenment with soloists Violetta Urmana and Ben Heppner in Act 2 of Wagner's Tristan and Isolde.
BBC PROMS 2010
Live from the Royal Albert Hall, London
Presented by Andrew McGregor.
Sir Simon Rattle evokes two iconic pairs of lovers in Berlioz's response to Shakespeare, and Wagner's re-working of a medieval celtic legend, with the distinguished soloists Violetta Urman and Ben Heppner as Isolde and Tristan, accompanied by the Orchestra of the Age of Enlightenment.
Berlioz first discovered Shakespeare through performances of Hamlet and Romeo and Juliet, involving his future wife Harriet Smithson, and these had a deep influence on his work. In his dramatic symphony based on the star-crossed lovers' tale, he pays hommage to Beethoven, and in later life he looked upon this Love Scene as one of his greatest achievements.
Attending one of the early performances of Romeo and Juliet in Paris was Richard Wagner, who later drew inspiration from this for Tristan and Isolde. He became intrigued with the medieval romantic legend at a time when he was enthralled with Matilde von Wesendonck, and he poured some of his most heartfelt passion into the opera. Act 2 is laden with the erotically charged symbolism of Night and Day, with the lovers constrained by propriety in the Day, only able to freely express their desires in the Night.
Wagner: Tristan und Isolde - Act 2
Isolde.....................Violeta Urmana, soprano
Tristan...........................Ben Heppner, tenor
King Mark.................Franz-Josef Selig, bass
Brangane......Sarah Connolly, mezzo-soprano
Melot......................Timothy Robinson, tenor
Kurwenal......................Henk Neven, baritone
Orchestra of the Age of Enlightenment
Sir Simon Rattle, conductor
This Prom will be repeated on Thursday 5th August at 2pm.
More episodes
Next
You are at the last episode