Main content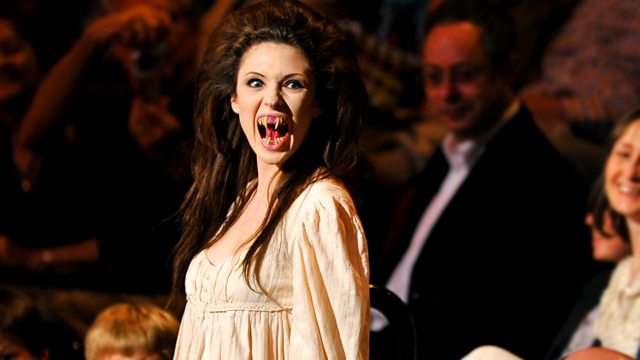 The second part of the Doctor Who Prom, with the BBC National Orchestra of Wales and London Philharmonic Choir in music from the drama series. Plus works by Orff and Wagner.
BBC PROMS 2010
Live from the Royal Albert Hall, London
Presented by Petroc Trelawny
The Doctor is back. Two years ago he appeared at the Proms via video link, this year he's here in person. Doctor Who (Matt Smith) comes to the Royal Albert Hall with his assistant Amy Pond (Karen Gillan) for an action-packed evening alongside the BBC National Orchestra of Wales and the London Philharmonic Choir. Monsters from the current run of the massively successful BBC series threaten to disrupt proceedings, and only the Doctor - ably assisted by conductors Ben Foster and Grant Llewellyn - can save the day.
They're joined by Grant Llewellyn, a regular partner with the orchestra, for some classical favourites with a suitably celestial theme, including Mars from Holst's Planets Suite and John Adams's thrilling Short Ride in a Fast Machine (possibly even a time machine!).
The score for each TV programme is written by Murray Gold and recorded by the BBC National Orchestra of Wales in their Cardiff studio, conducted by Ben Foster.
Thrills, spills, adventures, monsters and special guests are all guaranteed along the way in this Proms spectacular. Petroc Trelawny has the unenviable task of keeping everything in order for Radio 3 - though sadly without the help of a sonic screwdriver.
Murray Gold: Music from Doctor Who - Amy; Liz, Lizards, Vampires and Vincent; This is Gallifrey / Vale Decem; Pandorica Suite; Song of Freedom; Doctor Who Theme
Orff: Carmina Burana - O Fortuna
Wagner: Ride of the Valkyries (from Die Walküre)
The Doctor (Matt Smith)
Amy Pond (Karen Gillan)
Rory (Arthur Darvil)
Mark Chambers: singer
Yamit Mamo: singer
Murray Gold Band
London Philharmonic Choir
BBC National Orchestra of Wales
Ben Foster (conductor)
Grant Llewellyn (conductor).
More episodes
Next
You are at the last episode