Main content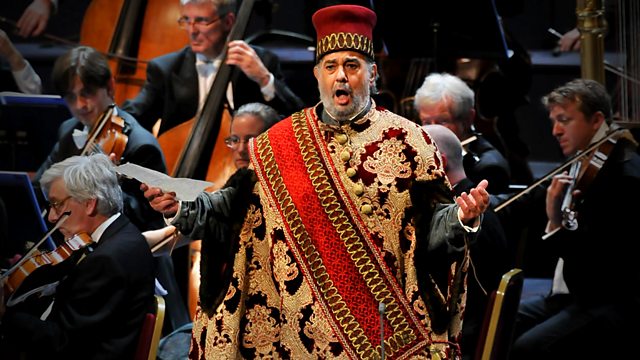 Prom 03
Placido Domingo adds a new role to his list of well over 100 operatic parts: the title role in Verdi's opera Simon Boccanegra, with Royal Opera House forces under Antonio Pappano.
Presented by Louise Fryer
Classic Verdi themes are at the heart of his opera Simon Boccanegra: the clash of love and power, and an intense relationship between Boccanegra and his long-lost daughter Amelia. The Spanish tenor Plácido Domingo has sung over 130 different operatic roles, which must be something of a record. But he had never sung a baritone role until a year ago, when he took on a part he had long wanted to play: Simon Boccanegra, the Doge of Genoa. This Proms semi-staging is based on the Royal Opera House production by Elijah Moshinsky, with a starry cast conducted by the Music Director at Covent Garden, Antonio Pappano. Presented by Donald Macleod.
Verdi: Simon Boccanegra
Simon Boccanegra ...... Plácido Domingo (baritone)
Amelia Grimaldi (Maria Boccanegra) ...... Marina Poplavskaya (soprano)
Gabriele Adorno ...... Joseph Calleja (tenor)
Jacopo Fiesco ...... Ferruccio Furlanetto (bass)
Paolo Albiani ...... Jonathan Summers (baritone)
Pietro ...... Lukas Jakobski (bass)
Captain ...... Lee Hickenbottom (tenor)
Maid ...... Louise Armit (mezzo-soprano)
Royal Opera Chorus
Orchestra of the Royal Opera House
Antonio Pappano (conductor)
Followed by performances from last year's Cheltenham Festival, including:
Mendelssohn: Prelude and Fugue in E minor Op.35'1
Angela Hewitt (piano).