Main content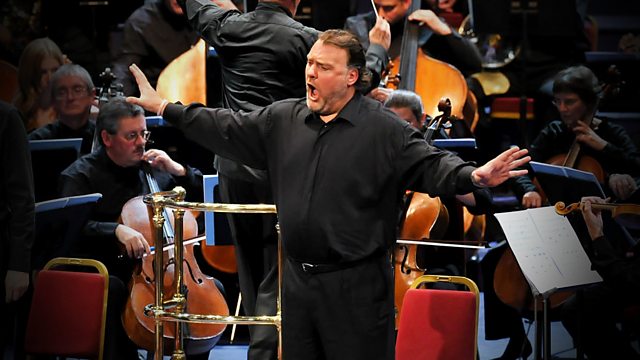 Welsh National Opera performs Wagner's The Mastersingers of Nuremberg. The cast is led by Bryn Terfel as Hans Sachs and Amanda Roocroft as Eva. Lothar Koenigs conducts.
Live from the Royal Albert Hall, London.
Presented by Suzy Klein.
Welsh National Opera brings its new production of Wagner's Mastersingers of Nuremberg to the Royal Albert Hall, and the celebrated bass-baritone Bryn Terfel makes his debut in the role of Hans Sachs, the shoemaker and poet at the heart of this monumental work - part comedy, part love story, part meditation on the transformative power of art.
In 16th-century Nuremberg, the Mastersingers are a highly influential guild of singers who meet for an annual singing competition - a challenge requiring a high level of technical expertise, and rewarded by a coveted prize. For the forthcoming competition, the goldsmith, Pogner, offers an extra prize - the hand in marriage of his daughter, Eva. Into the town comes a young knight, Walther, with no experience in the craft of singing, but he falls instantly in love with Eva. He performs a song for a chance to enter the competition, but is judged to be unworthy by the pedantic town clerk, Beckmesser, who is also keen to win Eva's hand. Hans Sachs is the only member of the establishment willing to listen to the newcomer and to give him a chance in his quest.
Wagner: The Mastersingers of Nuremberg (Act I)
c.5.30pm
Interval
c.5.55pm
Wagner: The Mastersingers of Nuremberg (Act II)
c.7.00pm
Interval
c.8.00pm
Wagner: The Mastersingers of Nuremberg (Act III)
Hans Sachs ...... Bryn Terfel (bass-baritone)
Walther von Stoltzing ...... Raymond Very (tenor)
Eva ...... Amanda Roocroft (soprano)
Beckmesser ...... Christopher Purves (baritone)
David ...... Andrew Tortise (tenor)
Pogner ...... Brindley Sherratt (bass)
Magdalene ...... Anna Burford (mezzo-soprano)
Nightwatchman ...... David Soar (bass-baritone)
Kothner ...... Simon Thorpe (bass/baritone)
Nachtigall ...... David Stout (baritone)
Schwartz ...... Paul Hodges (baritone)
Zorn ...... Rhys Meirion (tenor)
Eisslinger ...... Andrew Rees (tenor)
Moser ...... Stephen Rooke (tenor)
Foltz ...... Arwel Huw Morgan (bass-baritone)
Vogelgesang ...... Geraint Dodd (tenor)
Ortel ...... Owen Webb (baritone)
Chorus and Orchestra of Welsh National Opera
Lothar Koenigs (conductor).
Last on

More episodes
Previous
You are at the first episode