Main content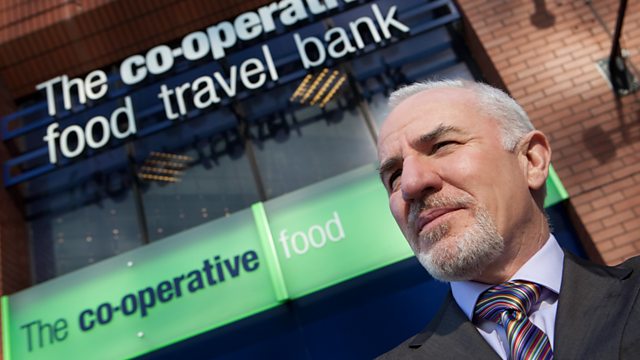 12/07/2010
Julian Worricker speaks to the boss of the Co-op supermarket chain, and, as pianos randomly appear at outdoor locations around the UK, Julian tinkles the ivories with passers-by.
Julian Worricker speaks to the Chief Executive of Britain's fifth biggest supermarket chain. They have at least one store in every post-code, bar one, but how has the Co-op fared in the recession and what impact could the VAT rise have on their customers?
Also - how can you avoid the budget airlines' baggage charges? Could a 17 pocket jacket do the trick - with room for clothes, laptop, toiletries and even food?
And Julian demonstrates his musical skills on an outdoor piano - part of an art installation that's been travelling the world.
Last on
Chapters
Chief Executive of the Co-Op, Peter Marks

As part of our new series of interviews with supermarket bosses, Julian Worricker speaks to Peter Marks, the Co-Operative Group's Chief Executive.

Duration: 11:01

Disinfected Chicken

In the near future chicken in supermarkets and butchers could have been disinfected with an anti-microbial wash.The Food Standards Agency will be starting a consultation on the plan soon.

Duration: 04:05

Play Me, I'm Yours

Julian tinkles the ivories on one of twenty-one pianos that have been placed around London as part of a project called 'Play Me I'm Yours'. We hear about plans to take them in other cities in the UK.

Duration: 06:28

Internet Access

Martha Lane Fox wants to get 10 million people, who currently don't have access to the web, online by 2012 but are her plans realistic? We hear from technology expert Bill Thompson.

Duration: 07:19

Stem Cell Therapies

Stem cell therapies are often hailed as miracle cures, but the international body for those involved in offering and researching stem cell therapies warns against unproven therapies.

Duration: 08:48

Luggage Coat

Airline demands and restrictions on luggage have led Vincent Graff to find a way of beating them at their own game - with a specially designed coat.

Duration: 04:18

River Kennet Water Supply

A hosepipe ban is affecting millions in England. In Swindon Thames Water has launched a new campaign because of concerns over levels in the River Kennet which supplies a third of Swindon.

Duration: 06:13

Call You and Yours: NHS Shake-Up

The government is set to announce that it should be GPs and not managers in a primary care trust who spend much of the NHS budget in England. One GP tells us what he makes of the idea.

Duration: 03:35

Broadcast