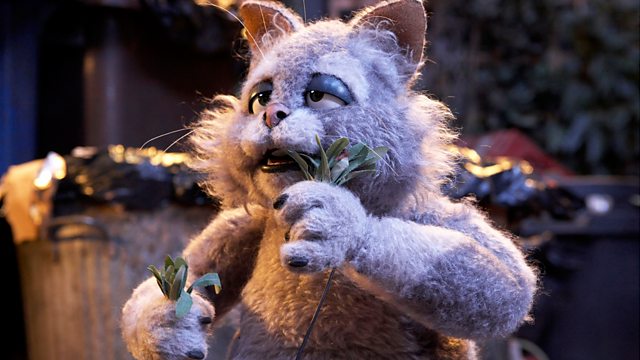 Adult multi-species puppet comedy about five urban animals who hang out together in the back yard of an inner city pub. Starring Nelson, a metrosexual fox; Destiny, a pretentious pedigree It-bitch; Marion, a freshly-neutered wannabe tomcat; Kali, a deeply cynical pigeon; and Vince, the neighbourhood sociopath.
When his neighbour Vince has a litter of fox cubs Nelson is thrilled to be an uncle at last, until he finds that Vince has eaten all of his cubs except one - the runt of the litter. Nelson decides to save the runt, only to discover that he's the sickliest, saddest, most difficult animal you could ever wish to meet.
Destiny meets a handsome dog called James who teaches her the art of the bottom sniff. Destiny quickly discovers that when it comes to sniffing bottoms she is an artist with special powers.
Marion gets addicted to catnip and goes crazy. Nelson steps in with some aversion therapy in a bid to save his friend.
Kali is reunited with an old partner in crime, the dove Dean. She is irritated to discover that Dean has no interest in helping her terrorise the neighbourhood since he has now found God and seen the error of his ways. Annoyed, Kali plots to tempt Dean back to the dark side.
Created by Adam Miller, developed by Jon Brown, Adam Miller and Daniel Peak, written by Jon Brown and Daniel Peak, and featuring the voices of Rufus Jones, Lucy Montgomery, Dan Tetsell, Katy Brand, Paul Kaye and Ruth Bratt. Puppets created by Talk to the Hand. Guest stars: Christopher Biggins, Gemma Bissix, Stuart Manning, Paul Ross.
Song: What Kind of God?
Last on
Credits
| Role | Contributor |
| --- | --- |
| Marion (voice) | Dan Tetsell |
| Marion | Warrick Brownlow-Pike |
| Nelson (voice) | Rufus Jones |
| Nelson | Andy Heath |
| Destiny (voice) | Lucy Montgomery |
| Destiny | Richard Coombs |
| Destiny | Sue Beattie |
| Kali (voice) | Katy Brand |
| Kali | Iestyn Evans |
| Vince (voice) | Paul Kaye |
| Wendy (voice) | Ruth Bratt |
| Big Issue Seller | Nick Tanner |
| Tramp | Lawry Lewin |
| Fireman | Steve North |
| Himself | Christopher Biggins |
| Herself | Gemma Bissix |
| Himself | Stuart Manning |
| Himself | Paul Ross |
| Puppeteer | Mandy Glass |
| Puppeteer | Matt Hutchinson |
| Puppeteer | Toby Olie |
| Puppeteer | Simon Buckley |
| Puppeteer | Yvonne Stone |
| Producer | Stephen McCrum |
| Director | Adam Miller |
| Writer | Jon Brown |