Main content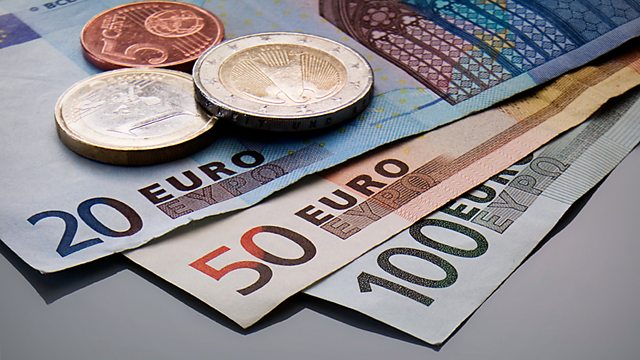 The Euro Nightmare
As the break-up of the Eurozone becomes a realistic possibility, Chris Bowlby investigates the consequences for the European Union and for Britain itself.
The Greek debt crisis has prompted calls for Greece to be thrown out of the Euro. There has even been speculation that the single currency itself might not survive - the secret but influential Bilderberg group met in June this year to consider, it is said, the unthinkable - whether the Euro might be doomed. It is a situation not envisaged by the Euro's architects who created no mechanism for leaving the currency or for its abolition.
Chris Bowlby looks at the likely fate of the Euro. What will happen if it is abolished and what will it look like if it survives? Would Europe revert to having several different currencies and how far is German economic power, which the Euro was meant to contain, going to dominate the new European economic order.
Chris Bowlby is a BBC journalist who enjoys investigating the economic and political consequences of hypothetical events: his previous Analysis programmes have included examinations of the effects of a British exit from the European Union and of Scottish independence from the UK.
Last on

Broadcasts

Featured in...
A collection of programmes exploring issues from the world of business and finance

This collection of Analysis programmes explore Europe.