Main content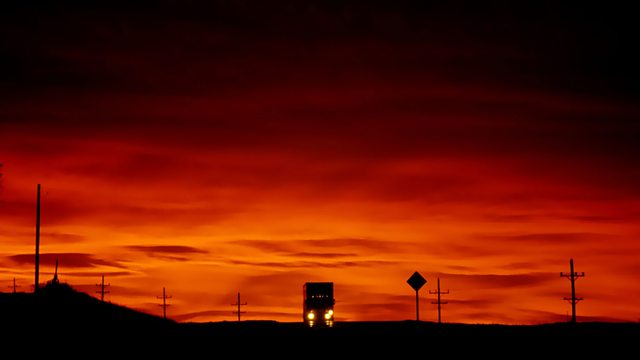 17/07/2010
John Shea presents music by Vladigerov, Schumann, Mendelssohn, Schafer, Rameau, Raitio, Ravel, Gilson, Bach, Telemann, Borodin, Czerny, JM Bach, Wassenaer, Jadin and Forqueray.
John Shea presents rarities, archive and concert recordings from Europe's leading broadcasters
01:00AM
Debussy, Claude (1862-1918)
Clair de lune - from Suite Bergamasque
01:05AM
Vladigerov, Pancho (1899-1978)
Suite of five pieces (Op.51)
01:19AM
Schumann, Robert (1810-1856)
Kinderszenen (Op.15)
01:36AM
Liszt, Franz (1811-1886)
Mephisto waltz no.1 (S.514)
Lyuba Encheva (piano)
01:47AM
Mendelssohn, Felix (1809-1847)
Symphony no. 1 (Op. 11) in C minor
Bergen Philharmonic Orchestra, Andrew Litton (conductor)
02:18AM
Schäfer, Dirk (1873-1931)
Quintet for piano & strings (Op.5) in D flat major
Orpheus String Quartet, Jacob Bogaart (piano)
03:00AM
Rameau, Jean-Philippe (1683-1764)
Orchestral Suite from Dardanus
European Union Baroque Orchestra, Roy Goodman (director)
03:19AM
Parry, (Sir) Charles Hubert Hastings (1848-1918)
I was glad (Psalm 122) orch. Jacob
Vancouver Bach Choir, Vancouver Symphony Orchestra, Bruce Pullan (conductor)
03:25AM
Raitio, Väinö (1891-1945)
The Swans (Op.15)
Finnish Radio Symphony Orchestra, Okko Kamu (conductor)
03:34AM
Ravel, Maurice (1875-1937)
La Valse
Ouellet-Murray Piano Duo
03:46AM
Lehár, Franz (1870-1948)
Valse Boston: 'Wer hat die Liebe uns ins Herz gesenkt?' - from the operetta Das Land des Lächelns (Land of Smiles)
Michelle Boucher (soprano: Lisa), Mark Dubois (tenor: Sou-Chong), Kitchener-Waterloo Symphony Orchestra, Raffi Armenian (conductor)
03:51AM
Rodgers, Richard (1902-1979)
Something Wonderful from the King & I
Yvonne Kenny (soprano), Melbourne Symphony Orchestra, Vladimir Kamirski (conductor)
03:55AM
Dvořák, Antonín (1841-1904)
Allegro moderato & Allegro appassionato from 4 Romantic pieces for violin & piano (Op.75 Nos.1 & 3)
Young-Zun Kim (violin), Joon-Cha Kim (piano)
04:02AM
Gilson, Paul (1865-1942)
La Mer
Flemish Radio Orchestra, Flemish Radio Choir, Brassband Buizingen, Martyn Brabbins (conductor)
04:38AM
Anonymous arr. by Gregor, Christian (1723-1801)
2 Moravian Chorales: Sleepers Wake; Covenant
American Brass Quintet
04:41AM
Bach, Johann Sebastian (1685-1750)
Improvised chorale harmonisation; Allein Gott in der Höh' sei Her (BWV.675)
Handel, Georg Frideric (1685-1759)
Fugue no.3 in B flat major (from 6 Fugues or voluntarys for organ or harpsichord, 1735)
Stef Tuinstra (organ)
04:50AM
Telemann, Georg Philipp (1681-1767)
Giovedi' (TWV42:Es2) - from 'Pyrmonter Kurwoche'
Albrecht Rau (violin), Heinrich Rau (viola), Clemens Malich (cello), Wolfgang Hochstein (harpsichord)
05:00AM
Borodin, Alexander (1833-1887)
Overture to Prince Igor
Vancouver Symphony Orchestra, Bramwell Tovey (conductor)
05:12AM
Dancla, Charles (1817-1907)
Variations on a theme by Bellini (Op.3)
Valdis Zarin? (violin), Ieva Zarina (piano)
05:17AM
Czerny, Carl (1791-1857)
Brilliant polonaise for piano six hands (Op.296)
Kęstutis Grybauskas, Vilma Rindzeviciute, Irina Venkus (pianos)
05:31AM
Bach, Johann Michael (1648-1694)
Auf laßt uns den Herren loben (Come let us praise the Lord) - aria for contralto, violin, 3 viola da gambas & basso continuo
Ulla Groenewold (contralto), Musica Antiqua Köln, Reinhard Goebel (conductor)
05:38AM
Wassenaer, Unico Wilhelm van (1692-1766)
Concerto no.5 in F minor (from Sei concerti armonici, 1740)
Combattimento Consort Amsterdam, Jan Willem de Vriend (conductor)
05:48AM
Parac, Frano (b. 1948)
Symphony
Croatian Radio & Television Symphony Orchestra, Nik?a Bareza (conductor)
06:06AM
Jadin, Hyacinthe (1776-1800)
Sonata no.1 (Op.3) in E flat major
Patrick Cohen (fortepiano)
06:24AM
Stradella, Alessandro (1639-1682)
Quando mai vi stancherete
Emma Kirkby (soprano), Alan Wilson (harpsichord)
06:32AM
Purcell, Henry (1659-1695)
Three parts upon a ground for 3 violins & continuo (Z.731)
Simon Standage (violin), Ensemble Il Tempo
06:37AM
Forqueray, Antoine (1672-1745)
Harpsichord suites from 'Pièces de clavecin', 1747 arr. Jean Baptiste Forqueray
Kati Hämäläinen (harpsichord)
06:53AM
Porumbescu, Ciprian (1853-1883)
Ballad for violin & orchestra
Ion Voicu (violin), Bucharest Chamber Orchestra, Madalin Voicu (conductor).