Main content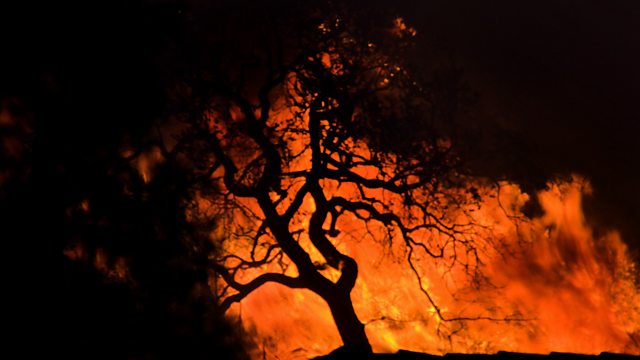 Goethe's Oak
Christopher Cook pieces together the story of the ancient Goethe's Oak tree in the Buchenwald concentration camp, which symbolised two different visions of Germany.
Christopher Cook walks from the town of Weimar, home of Goethe and German culture, through the beech woods to the site of the former concentration camp of Buchenwald. Uniting all these places and three generations of German memory and culture is the stump of Goethe's Oak, a tree whose own story branches through turbulent and often cruel history.
Oral history of survivors, including the final interview with Norwegian Reidar Dittmann, the poetry of Goethe and the fiction of Buchenwald's most powerful story teller Jorge Semprun, who also died this year, weave in and out of Cook's journey to create a powerful tale of culture and survival.
August 1944, a tree burns in Buchenwald concentration camp. Goethe's Oak is on fire, hit by a stray incendiary bomb. To some of the prisoners in this wretched place its final moments were prophetic. Surely the days of the Nazi Reich must be numbered now. Goethe's Oak, 'the Fat Oak', with its wizened and gnarled trunk had become a powerful symbol for those imprisoned in the camp at Buchenwald. Supposedly, this was the very tree where Goethe had once sat with his love to contemplate the beauty of the woods and the world around him. Here he supposedly wrote such poems as the immortal Wanderer's Night Song.
The woods at Ettersberg that surround the oak are just a short walk from the town of Weimar where Goethe had made his reputation as one of the great thinkers of the age, helping to define a new German culture & identity.
The National Socialists also loved Weimar. The Hitler Youth were founded nearby; Hitler stayed there frequently and spoke at public rallies. Then in 1937, the S.S. decided to carve out a concentration camp out of the Ettersberg.
That was the camp's first name but local objections, uneasy about associating a camp with the revered name of Goethe, saw the camp renamed as Buchenwald. The only tree left standing in this vast complex was the 'Goethe Oak' . For the Nazi's it legitimated their regime, showed their love for history and German culture and their desire to incorporate Goethe's world into the Nazi one. For the prisoners, stealing precious moments from their murderous labours, the branches offered precious shade and a reminder of the other Germany that had been imprisoned with them.
Now, twenty years after the end of East Germany and sixty-five years after the American army liberated Buchenwald, the many meanings of both tree and camp continue to occupy survivors, historians and perhaps Germany itself.
Producer: Mark Burman.