Main content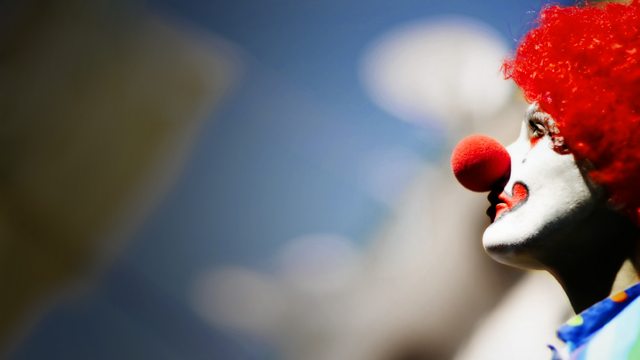 Clowns
Texts and music focusing on clowns, with readings by Alison Steadman and Andrew Sachs. With writing from Aesop to Stephen King and Clare to Holub, plus Stravinsky and Schumann.
Alison Steadman and Andrew Sachs read poetry and prose exploring clowns as mysterious constructs that evoke an array of emotions: from laughter to tears, happiness to fear, and wonder to pity. Clowns are seen as solitary, innocent, terrifying, malevolent and sometimes even evil.
The programme captures the many guises of clowns and begins with a homage to Joseph Grimaldi, considered to be the most famous English Clown. On the first Sunday of every February, clowns gather in the National Clowns' Church (Holy Trinity Church, Dalston, East London) to celebrate the life of Grimaldi, so the beginning of the programme recreates the Grimaldi Service with stanzas from an ode by Thomas Hood read over Stravinsky's Circus Polka arranged for organ.
Then enter the clowns: Verlaine's Parisian circus clown, the foolish country clowns of John Clare and Henry Parrot, Simon Armitage's Clown Punk, Shel Silverstein's tearful, unfunny 'Cloony the Clown' and Heinrich Boll's naive clown in the confusion of post-war Germany. The familiar figures of the Commedia dell'Arte - Pierrot, Harlequin, Columbine and Pantalon - also begin to emerge from the beginning of the programme and are characterized in Schumann's Carnaval, Op.9, the Pierrot of Bantock and Reger, plus Telemann's Columbine from Ouverture Burlesque.
In the middle of the programme, the 'Clowns' Prayer' recreates the central part of the Grimaldi Service accompanied by Britten's Village Organist's Piece. The darker side of clowns is revealed through Stephen King's 'It' with Respighi's horrifying depiction of death in the Roman circus (Feste romane), Shakespeare's clown gravediggers from Hamlet over Charlie Chaplin's 'Clown's Last Crazy Act', and Betsy Sholl's ghostly 'saddest man in the world'.
Music Played
Timings (where shown) are from the start of the programme in hours and minutes
THOMAS HOOD

Ode to Joseph Grimaldi Senior (extracts), read by Andrew Sachs & Alison Steadman

VERLAINE

The Clown, read by Alison Steadman

AESOP, trans. THOMAS PHILIPOT

Fab LIII. The Clown and Cart, read by Andrew Sachs & Alison Steadman

JOHN CLARE

The Clown, read by Alison Steadman

HENRY PARROT

Nescit Stultus Irasci, read by Andrew Sachs

HEINRICH BOELL

The Clown (extract from chapter 1), read by Andrew Sachs

EVE MERRIEM

Veep, read by Alison Steadman

AESOP, trans. THOMAS PHILIPOT

Fab. XCVIII. The Wood and Clown, read by Alison Steadman & Andrew Sachs

HILAIRE BELLOC

Auvergnat, read by Alison Steadman

BETSY SHOLL

Joining the Circus, read by Alison Steadman

ANONYMOUS

Clown Prayer, read by Alison Steadman & Andrew Sachs

SHEL SILVERSTEIN

Cloony The Clown, read by Andrew Sachs

MIROSLAV HOLUB

Clowns, read by Alison Steadman

PHOEBE HESKETH

Clown, read by Alison Steadman

AESOP, trans. THOMAS PHILIPOT

Fab. LVI. The Stork and Geese, read by Andrew Sachs & Alison Steadman

STEPHEN KING

It, read by Andrew Sachs

SHAKESPEARE

Hamlet, Act 5 Scene 1, read by Andrew Sachs & Alison Steadman

SIMON ARMITAGE

The Clown Punk, read by Andrew Sachs

ROBERT LOUIS STEVENSON

The Angler and the Clown, read by Alison Steadman