Main content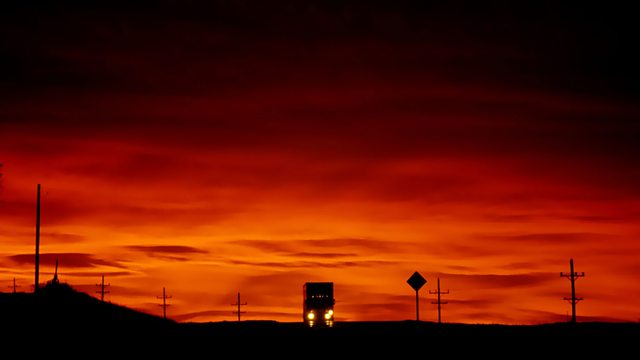 02/07/2010
John Shea presents music by Haydn, Britten, Mozart, CPE Bach, Schafer, Crusell, Beethoven, Dussek, Ravel, Forster, Glinka, Vivaldi, Prokofiev, Walters, Elgar, Buxtehude and Darzins.
John Shea presents rarities, archive and concert recordings from Europe's leading broadcasters
1:01 AM
Haydn, Joseph [1732-1809]
Quartet for strings (Op.50'4) in F sharp minor
1:20 AM
Britten, Benjamin [1913-1976]
Quartet for strings no. 2 (Op.36) in C major
Belcea Quartet
1:50 AM
Mozart, Wolfgang Amadeus(1756-1791)
Piano Concerto in C major (K. 467)
Mihaela Ursuleasa (piano), National Polish Radio Symphony Orchestra, Gabriel Chmura (conductor)
2:19 AM
Bach, Carl Philipp Emanuel (1714-1788)
Sonata in C major for flute and harpsichord (Wq.73)
Konrad Hünteler (flute), Ton Koopman (harpsichord)
2:32 AM
Schafer, R(aymond) Murray (b. 1933)
Minnelieder - Love songs from the Medieval German for mezzo-soprano and wind quintet (1956)
Jean Stillwell (mezzo-soprano), Canadian Chamber Ensemble, Raffi Armenian (conductor)
3:01 AM
Crusell, Bernhard Henrik (1775-1838)
Concerto for Clarinet and Orchestra No.1 in E flat
Kullervo Kojo (clarinet), Finnish Radio Symphony Orchestra, Ulf Söderblom (conductor)
3:24 AM
Schubert, Franz (1797-1828)
An die Musik (Op.88 No.4)
Jadwiga Rappé (alto), Ewa Poblocka (piano)
3:26 AM
Schubert, Franz (1797-1828)
Der Zwerg (D.891)
Jard van Nes (mezzo soprano), Gérard van Blerk (piano)
3:32 AM
Beethoven, Ludwig van (1770-1827
Symphony no 8 in F major (Op 93)
Olso Philharmonic Orchestra, Rafael Fruhbeck de Burgos (conductor)
4:00 AM
Dussek, Jan Ladislav (1760-1812)
Piano Sonata in C minor (Op.35, No.3)
Andreas Staier (Broadwood fortepiano)
4:24 AM
Ravel, Maurice (1875-1937)
Histoires naturelles
Olle Persson (baritone), Bengt-Åke Lundin (piano)
4:41 AM
Dupré, Marcel (1886-1971)
Cortège et Litanie
David Drury (William Hill and Son organ of Sydney Town Hall, Australia)
4:48 AM
Förster, Kaspar (1616-1673)
Vanitas vanitatum (KBPJ 46)
Olga Pasiecznik (soprano), Krzysztof Szmyt (tenor), Grzegorz Zychowicz (bass), Il Tempo Baroque Ensemble
5:01 AM
Glinka, Mikhail Ivanovich (1804-1857)
Kamarinskaya (fantasy for orchestra)
Winnipeg Symphony Orchestra, Kazuhiro Koizumi (conductor)
5:08 AM
Dandrieu, Jean-François (c.1682-1738)
Rondeau - L'Étourdie, from Suite for harpsichord no.4
Colin Tilney (harpsichord)
5:09 AM
Daquin, Louis-Claude (1694-1772)
Rondeaux - Les Enchaînement harmonieux
Colin Tilney (harpsichord)
5:14 AM
Vivaldi, Antonio (1678-1741)
Concerto da Camera in D major (RV.95)
Camerata Köln
5:23 AM
Kuula, Toivo (1883-1918)
The Bride Arrives
Finnish Radio Symphony Orchestra, Jorma Panula (conductor)
5:27 AM
Sibelius, Jean (1865-1957)
3 songs for American schools
Finnish Radio Chamber Choir, Liisa Pohjola (piano), Eric-Olof Söderström (conductor)
5:32 AM
Ravel, Maurice (1875-1937)
Trio in A minor [2 movements only]
Trio Ismena
5:46 AM
Prokofiev, Sergey (1891-1953)
Piano Concerto No. 3 in C (Op.26) (1917-1921)
Martha Argerich (piano), Royal Concertgebouw Orchestra, Riccardo Chailly (conductor)
6:16 AM
Walters, Gareth (b. 1928)
Divertimento for Strings (1960 - BBC Commision)
Manitoba Chamber Orchestra, Roy Goodman (conductor)
6:32 AM
Elgar, Edward (1857-1934)
To her beneath whose steadfast star
BBC Singers, Stephen Layton (conductor)
6:38 AM
Lorenzetti, Joseph (1740-1789)
Gavotte
Gary Karr (double bass), Harmon Lewis (piano)
6:41 AM
Buxtehude, Dietrich (1637-1707)
Chorale Prelude 'Herr Christ, der einig' Gottes Sohn' (BuxWV.192)
Ligita Sneibe (organ)
6:44 AM
Buxtehude, Dietrich (1637-1707) NEW!
Prelude and Fugue in G minor (BuxWV.149)
Velin Iliev (organ)
6:54 AM
Sonninen, Ahti (1914-1984)
Laulu omnesta (A Song of Happiness)
Sauli Tiilikainen (baritone), Markus Lehtinen (piano)
6:56 AM
Darzins, Emils (1875-1910)
Close your Eyes and Smile, excerpt from 'Emils Darzins. The Valse Mélancolique'
Kamer Youth Chorus, Raimonds Pauls (piano), Maris Sirmais (director).