Main content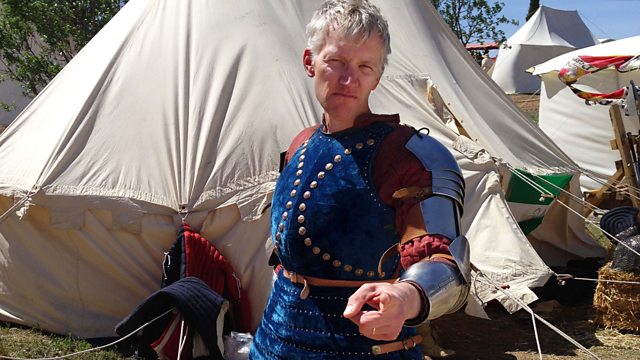 29/06/2010
A faded slogan painted on the side of a house in a Norfolk market town reveals an unsavoury fascist past. Presented by Vanessa Collingridge.
Vanessa Collingridge presents the popular history programme in which listeners' questions and research help offer new insights into the past.
Listener Alan Quinn forwarded a photograph of a faded slogan on the side of a house in the Norfolk market town of Aylsham. It reads "Stand By The King" and Alan thinks that it recalls the abdication crisis of 1936. But why, he asks, and why here in Norfolk?
Vanessa talks to Dr Stephen Cullen at the University of Warwick who has written extensively on the British Union of Fascists in the 1930s. He reveals the links between East Anglia and Mosley's 'Black Shirts'.
Dylan Winter goes to Devon to see a newly restored 1940s ghost train, and reporter Caz Graham catches up with Professor Vanessa Toulmin at the National Fairground Archive, who tells her about the origins of ghost trains here in Britain.
There's also news of a new scheme in Lincolnshire which encourages local people to help save the county's threatened building heritage.
And Vanessa travels to the Isle of Bute to see a religious object that's been photographed and uploaded to the A History of the World website, to reveal how the church policed its congregation in the early eighteenth century.
You can send us questions or an outline of your own research.
Email: making.history@bbc.co.uk
Write to Making History. BBC Radio 4. PO Box 3096. Brighton BN1 1PL
Join the conversation on our Facebook page or find out more from the Radio 4 website:
www.bbc.co.uk/radio4/makinghistory
Producer: Nick Patrick
A Pier Production for BBC Radio 4.
Last on
Broadcast