Main content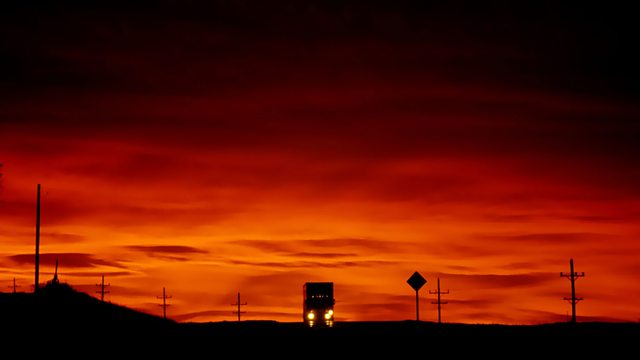 22/06/2010
Jonathan Swain with music by Prokofiev, Stravinsky, Tchaikovsky, Khachaturian, Mozart, J Strauss II, Haydn, Schoenberg, Bella, Kodaly, Vladigerov, Copland, Sances, Leclair, Franck.
Jonathan Swain presents rarities, archive and concert recordings from Europe's leading broadcasters
1:01 AM
Prokofiev, Sergey (1891-1953)
Piano Sonata No.7 in B flat major (Op.83)
Shura Cherkassky (piano)
1:19 AM
Stravinsky, Igor (1882-1971)
The Fairy's Kiss
Bournemouth Symphony Orchestra, Kirill Karabits (conductor)
2:02 AM
Tchaikovsky, Pyotr Il'yich
Concerto for violin and orchestra (Op.35) in D major
Julian Rachlin (violin), Bournemouth Symphony Orchestra, Kirill Karabits (conductor)
2:39 AM
Khachaturian, Aram Ilyich (1903-1978)
Spartacus (excerpts)
Bournemouth Symphony Orchestra, Kirill Karabits (conductor)
3:01 AM
Biber, Heinrich Ignaz Franz von (1644-1704)
Sonata no.7 a 8 from sonatae tam aris, quam aulis servientes (1676)
Collegium Aureum, Georg Ratzinger (conductor)
3:06 AM
Mozart, Wolfgang Amadeus (1756-1791)
Symphony No.36 (K.425) in C major, 'Linz'
Bergen Philharmonic Orchestra, Bertrand de Billy (conductor)
3:41 AM
Strauss, Johann II (1825-1899)
An der schönen, blauen Donau (Op.314) 'The Blue Danube'
BBC Philharmonic, Vassily Sinaisky (conductor)
3:51 AM
Haydn, Joseph (1732-1809)
Trio for keyboard and strings (H.15.18) in A major
William Preucil (violin), David Finckel (cello), Wu Han (piano)
4:09 AM
Schoenberg, Arnold (1874-1951)
Friede auf Erden (Op.13)
Danish National Radio Choir
4:18 AM
Bella, Ján Levoslav (1843-1936)
Overture to Hermina im Venusberg (Hermania in Venus' cave)
Slovak Radio Symphony Orchestra Bratislava, Stefan Róbl (conductor)
4:26 AM
Kodály, Zoltán (1882-1967)
Adagio for clarinet and piano (1905)
Kálmán Berkes (clarinet), Zoltán Kocsis (piano)
4:34 AM
Mokranjac, Stevan (1856-1914)
Tenth Song Wreath (Songs from Ohrid)
RTV Belgrade Choir, Mladen Jagust (conductor)
4:43 AM
Bartók, Béla (1881-1945), arranged by Székely, Zoltán (1903-2001)
Romanian folk dances (Sz.56) arr. Székely for violin & piano
Vineta Sareika (violin), Ventis Zilberts (piano)
4:49 AM
Vladigerov, Pancho (1899-1978)
Vardar - Bulgarian rhapsody (Op.16)
Bulgarian National Radio Symphony Orchestra, Milen Nachev (conductor)
5:01 AM
Copland, Aaron (1900-1990)
Danzon Cubano vers. for 2 pianos
Aglika Genova (piano), Liuben Dimitrov (piano)
5:07 AM
Copland, Aaron (1900-1990)
El Salón México
San Francisco Symphony Orchestra, Michael Tilson Thomas (conductor)
5:19 AM
Cirigliano, Juan Carlos (b.1936)
El sonido de la ciudad
Musica Camerata Montréal
5:32 AM
Albéniz, Isaac (1860-1909) [arranger unknown]
Cuba (Capricho) from Suite española for piano no.1 (Op.47 No.8) arr. unknown for guitar
Tomaz Rajteric (guitar)
5:38 AM
Morales, Cristóbal de (c.1500-1553)
Andreas Christi famulus - motet à 8
Studio de musique ancienne de Montréal (SMAM), Christopher Jackson (director)
5:45 AM
Arriaga, Juan Crisóstomo de (1806-1826)
Stabat Mater
Grieg Academy Choir, Bergen Philharmonic Choir and Orchestra, Juanjo Mena (conductor)
5:53 AM
Torres y Martínez Bravo, José de (c.1670-1738)
Cantada al Santisimo Sacramento, 'Afectos amantes' - from a manuscript in the Archivo Capitular at the Guatamala City Cathedral
Marta Almajano (soprano), Al Ayre Español, Eduardo López Banzo (conductor)
6:06 AM
Sances, Giovanni Felice (c.1600-1679)
Cantada sopra il passacaglia 'Usurpator tiranno' - from 'Cantade à doi voci, libro secondo, parte seconda' (Venice 1633)
Accordone: Marco Beasley (tenor), Stefano Rocco (archlute & guitar), Guido Morini (harpsichord)
6:13 AM
Rameau, Jean-Philippe (1683-1764)
Fanfarinette
Colin Tilney (harpsichord)
6:16 AM
Leclair, Jean-Marie (1697-1764)
Concerto for violin and string orchestra (Op.10 No.3) in D major
Simon Standage (violin), Il Tempo Ensemble
6:32 AM
Saint-Saëns, Camille (1835-1921)
Sonata for bassoon and piano (Op.168) in G major
Jens-Christoph Lemke (bassoon), Mårten Landström (piano)
6:45 AM
Franck, César (1822-1890)
Le Chasseur maudit - symphonic poem (M.44)
Orchestre National de France, Pinchas Steinberg (conductor).