Main content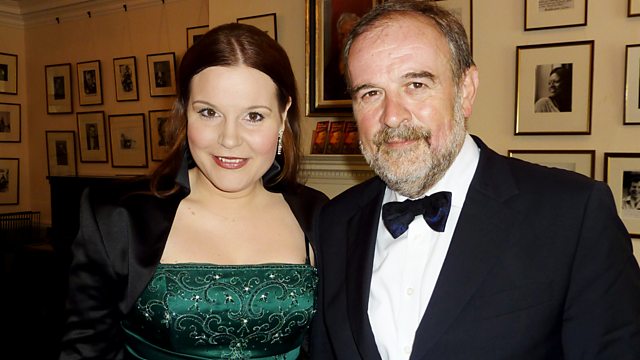 Genia Kuhmeier, Helmut Deutsch
Presented by Katie Derham. From London's Wigmore Hall, Austrian soprano Genia Kuhmeier with pianist Helmut Deutsch perform music by Beethoven, Schubert, Dvorak and Strauss.
Presented by Katie Derham. Live from London's Wigmore Hall, Austrian Soprano Genia Kuhmeier sings Beethoven, Schubert, Dvorak and Strauss, accompanied by Helmut Deutsch.
BEETHOVEN
Die Trommel gerühret (Goethe), Op. 84 No. 1
Freudvoll und leidvoll (Goethe), Op. 84 No. 2
Klage (Hölty), WoO 113
SCHUBERT
Gretchen am Spinnrade, D118
Am Grabe Anselmos, D504
Nacht und Träume, D827
Die junge Nonne, D828
DVORAK
Zigeunermelodien, Op. 55
R. STRAUSS
Die Nacht, Op. 10/3
Ich wollt' ein Sträusslein binden Op. 68 No. 2
Schlechtes Wetter, Op. 69 No. 5
Meinem Kinde, Op. 37 No. 3
Cäcilie, Op. 27 No. 2
Genia Kühmeier (soprano)
Helmut Deutsch (piano)
Genia Kuhmeier is one of the finest sopranos of her generation, highly acclaimed for her Mozart, which is appropriate as she was born in Salzburg. She brings to today's Wigmore Hall an intensity honed on the opera stages of the world, and in Helmut Deutsch she has one of the pre-eminent accompanists.
Genia Kuhmeier begins with 2 songs Beethoven wrote as part of the incidental music to Goethe's play Egmont - Klarchen, the Count of Egmont's mistress, desperately tries to save her lover, who prefers to face death rather than dishonour under the oppression of the Duke of Alba. In particular, "Freudvoll und leidvoll", contains the line: "Heavenly Joy, Deadly Sorrow" - which has been used as a definition of Romanticism.
Four Schubert songs follow, the first also to a text by Goethe. Gretchen is seated at her spinning wheel, with the piano's descriptive accompaniment underpinning her despair at the loss of her lover, and in the last song, Die junge Nonne, the young nun has turned her back up on her earthly passions, and awaits release from this life into heavenly joy.
Dvorak's Gypsy Melodies take us away from Viennese lieder. These songs are filled with Dvorak's characteristic Czech-ness and Genia Kuhmeier sings them in Czech.
Genia Kuhmeier and Helmut Deutsch conclude their recital with songs by Richard Strauss, and the final song, Cacilie, continues the theme of passion, both earthly and heavenly.