Main content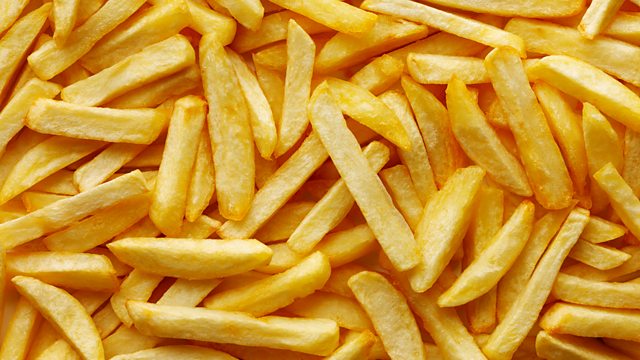 Chips
Sheila Dillon explores changing fashions in the fried potato, from the Bruges chip museum to the 150th anniversary of fish and chips.
Chips, fries, wedges, micro-chip - Sheila Dillon explores changing fashions in the fried potato, and asks who drives these changes, and how do you make the perfect chip?
In Britain the chip found its perfect partner in fish 'n' chips. Quite when that happened is disputed, but according to the fish 'n' chip fraternity 1860 is the most likely date, and to celebrate they organised a workshop in London, to explore every aspect of the famous pairing from beer batters to mushy peas, and of course a comparison of 4 different potato varieties to find out which made the perfect chip.
But today half the chips consumed in this country don't come fresh from the fryer, but from the freezer cabinet. 30 years ago McCains introduced the oven chip to Britain and now, according to the company, 70% of households would have a packet of their chips in the freezer. Sheila Dillon visited their largest factory in Peterborough to follow those chips through the process from potato to freezer bag.
In Belgium the oven chip hasn't caught on. Instead friterie shops proliferate, and Belgians take their chips very seriously. How the potato arrived in Europe remains contentious, but the Belgians are confident that it was them, and not the French, who invented the "French" fry. Ray Kershaw visited the Friet Museum in Bruges established to celebrate their national fry with director Eddie Van Belle.
Produced by Rebecca Moore.
Last on

Broadcasts

Featured in...
The Food Programme takes a lip-smacking look back at some of the foods that make Britain.