Main content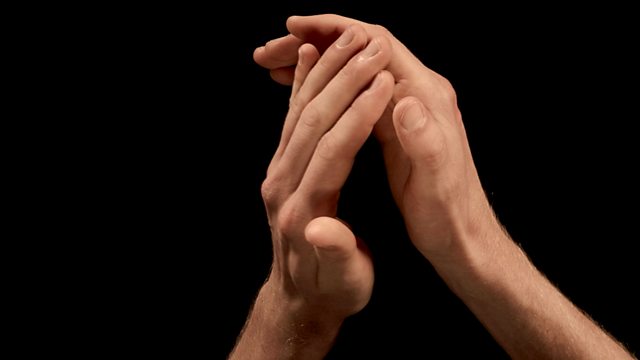 Put Your Hands Together
Nick Baker explores the irresistible human impulse, motivation and ritual to put our hands together and clap. From June 2010.
In a self-consciously clap-happy exploration of one of the most delightful and satisfying forms of human action and expression, Nick Baker investigates the meanings and motivations, the sounds and symbolism, the elation and frustration of ritually striking one hand with another.
The clapping rhythms of football, flamenco, the nursery and the Pentecostal church are all biologically linked yet subtly different. In this anatomy of a basic human ritual, Nick has collected claps as far apart as Fiji - where a clapping ritual accompanies a narcotic-taking ceremony - and China, where young women on busy high streets clap to attract attention to what's on offer in the stores. Choreographer Luke Creswell, an expert clapper, collects clap-routines in bars all over the world.
What's linked in all cases, according to Professor Colwyn Trevarthen, is humanity's attunement to one of its many internal biological clocks - the one that gives us walking, chewing and nodding our head. He invites listeners to join in with a simple experiment to demonstrate the rhythm of life.
Babies clap early & show awareness of hands in the womb. The clap is not the basis of language development, it is language development. It is display, performance, shared meaning & shared time. Gospel singer Ruby Turner provides musical commentary on how the hand clap moves from babies, through Sunday School, the playground and the church towards soul and R and B.
Do our biological predecessors clap? Perhaps we've been exposed to too many tea commercials. Or maybe chimpanzees have been too exposed to us, primatologist Alison Fletcher explains.
Producer: Tamsin Hughes
A Testbed production for BBC Radio 4.