Main content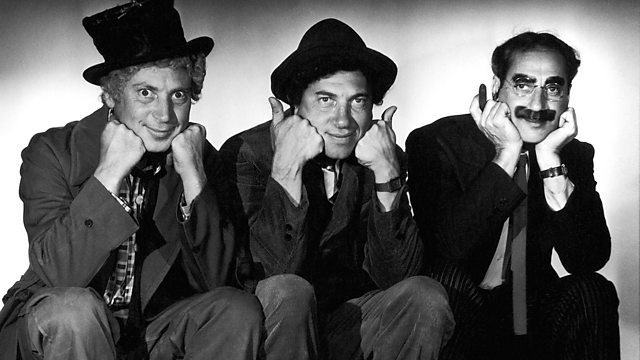 The Marx Brothers in Britain
4 Extra Debut. Glenn Mitchell profiles the visits to Britain of the celebrated American comedy team The Marx Brothers, who worked together and apart in Britain. From June 2010.
Author and historian Glenn Mitchell profiles the fascinating visits to Britain of legendary comedy team The Marx Brothers.
The Marx Brothers; Groucho, Harpo, Chico and (for a while) Zeppo, inspired a generation of comedians, not least in Britain via The Goon Show and, by extension, Monty Python's Flying Circus. Although Britons knew the Marxes essentially from their American films, they worked in the UK on several remarkable occasions, the first of which pre-dates their movie career.
Featuring actor Michael Roberts, famous for playing Groucho on the UK radio series Flywheel, Shyster and Flywheel and using archive and new contributions from people that met and worked with them this programme recreates and explores the eventful visits of the brothers.
Beginning with their first in 1922, with an ensemble that included future 'boop-oop-a-doop' girl Helen Kane, the opening night at the London Coliseum saw them the target of flying pennies. With the act not working they reverted to an earlier sketch, moving to the Alhambra for the third week prior to appearances in Bristol and Manchester where elsewhere on the bill was a young Sandy Powell.
By the time of their next visit, in 1931, the Marxes had gone from vaudeville to being the biggest attraction in Broadway musical-comedy. Two of their shows had been filmed - The Cocoanuts and Animal Crackers - and had done sufficient business in the UK for impresario C.B. Cochran to invite them to star at the Palace, London.
Audiences were thrilled and the Marxes enjoyed their second stay in London, even when Harpo and Chico, drawn into a protracted card game in an unheated flat, found themselves burning the furniture to keep warm! The journey back saw Groucho and family strip-searched at US Customs when Groucho put down his occupation as 'smuggler'.
In 1947, Chico accepted a solo engagement at the London Casino. He returned to Britain in January 1949 for an extensive variety tour, joined briefly by Harpo for a four-week engagement at the London Palladium in June. In a dockside interview - to be heard in the programme - Chico is asked about the Italian accent he used when in character and claims that, after seeing what they'd done to Mussolini, he'd become Greek!
Chico's final UK visit was in 1959 for two BBC appearances, one of which, Showtime hosted by David Nixon.
There will also be interview material from Groucho's various trips to Great Britain between 1954 and 1971. Some of his activities were professional - such as a British TV version of his quiz show You Bet Your Life - while others were purely social, notably his celebrated meeting with T.S. Eliot.
Contributors include actor Ron Moody, Theatre historian Chris Woodward and Marxist fan Peter Dixon.