Main content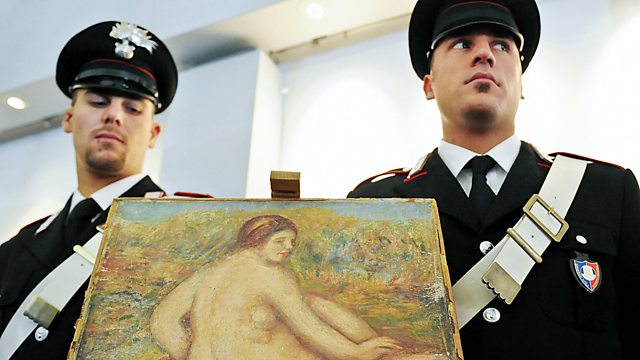 The Carabinieri Art Squad
Meet the police team protecting Italy's priceless culture from tomb raiders and forgers. With Alex Butterworth. From June 2010.
Writer and historian Alex Butterworth travels to Rome to meet the Carabinieri squad in charge of protecting Italy's priceless cultural heritage.
A helicopter circles overhead while Italian police officers and archaeologists peer into a 30-foot deep hole made in a field outside Rome. The land may look like ordinary farmland, but beneath the ground there are in fact Etruscan tombs full of treasures. The hole has been made by a group of "tombaroli"- tomb raiders who come in the night to smash open hidden tombs, and grab the artefacts inside. They sell them on to dealers, who in some cases offer them to museums for a massive price.
The police officers in attendance are a members of a special branch of the Italian Carabinieri (the military police) which was set up to try to deal with the problem of stolen art in the country. The unit, known as the Department for the Protection of Cultural Heritage (Comando Carabinieri Tutela Patrimonio Culturale in Italian) has its main headquarters in Rome and branches throughout the country. Its job is to try to stop the looting of Italy's cultural treasures- from artefacts in excavations to paintings and statues in country churches.
To try to stop the trafficking, carabinieri officers carry out regular patrols on archaeological sites, They also check items of from auction houses and exhibitions against their vast database of stolen goods. Other officers carry out checks on more contemporary artworks to make sure that they're not forged. Since the unit began in 1969, the success rate has been high, with thousands of artworks recovered.
Alex Butterworth is in Rome to watch the work of the Carabinieri TPC at first hand. He follows the archaeological section on patrol and sees how the huge database is used to recover stolen works which are sometimes changed beyond almost all recognition by the thieves to avoid detection. For example, one vast painting was stolen and then cut into several pieces and sold as separate items.
While watching the officers at work, Alex explores the changing nature of cultural protection and asks what Italy's determination to find its treasures says about the mood of the country.
Producer Emma Kingsley.