Main content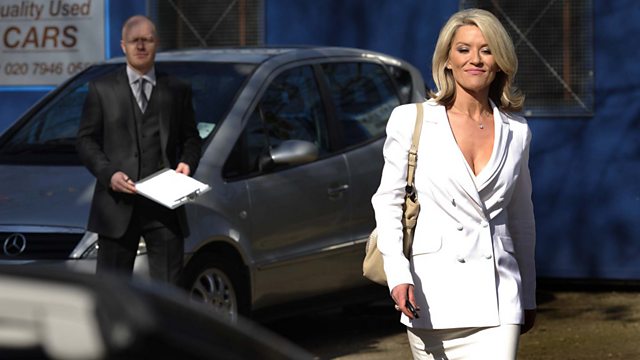 04/06/2010
Denise continues to cover for Lucas' erratic behaviour, but unbeknownst to her he's sinking to new depths of depravity. Meanwhile Shirley battles for Ben to return home.
Everyone prepares for Jordan's return from hospital, but Denise is still on edge over her relationship with Lucas. She's exasperated when both Liz and Kim arrive for Jordan's party.
Meanwhile, at the police station, Jordan's uncomfortable ahead of giving his statement. At Jordan's homecoming party, Denise frets as Kim gets increasingly rowdy. Lucas is disapproving of Kim's behaviour and the ensuing boozing. Lucas eventually snaps. A tearful Denise apologises for ruining Jordan's day and tries to get amorous, but Lucas leaves.
Rebuffed once more, Denise despairs. Kim assures Denise that Lucas is like all men and has something to hide. Lucas, meanwhile, enters a sleazy bar and eyes up ropey women. Recognising him a barmaid asks: "What can I get you, Mark?"
Lucy's stung when she's shunned by Leon, Zsa Zsa, Fatboy and even Peter. The gang organise a send-off for Billie at the squat. Spotting them, a fuming Lucy informs Ian that he has squatters.
Ian arrives to throw them out, but they smugly refuse. Ian decides to play them at their own game and sits down. He bores them to death with his stories and they eventually leave. Appalled on hearing Lucy's plans for exacting revenge on the gang, Lauren rejects her. Lucy's left friendless.
Darren laments his single life to Max. They're interrupted by an attractive customer, Vanessa. Max gives Darren a master class in how to handle women. Having been charmed by Max, Vanessa buys a car and gives him her number. Dejected when Lauren is collected by Gregg, Max calls Vanessa.
Mercy informs a crestfallen Fatboy that she's moving to Nigeria.
Keen to put things right, Shirley encourages Ben to come home. Ian intercepts her, not wanting Phil or her anywhere near Ben. Fed up of the bickering and lies, Ben shuns Shirley.
Clips

Credits
| Role | Contributor |
| --- | --- |
| Lucas Johnson | Don Gilet |
| Denise Johnson | Diane Parish |
| Kim Fox | Tameka Empson |
| Jordan Johnson | Michael-Joel David Stuart |
| Chelsea Fox | Tiana Benjamin |
| Libby Fox | Belinda Owusu |
| Adam Best | David Proud |
| Patrick Trueman | Rudolph Walker |
| Liz Turner | Kate Williams |
| Ben Mitchell | Charlie Jones |
| Ian Beale | Adam Woodyatt |
| Shirley Carter | Linda Henry |
| Heather Trott | Cheryl Fergison |
| Minty Peterson | Cliff Parisi |
| Executive Producer | Diederick Santer |
| Writer | Matt Evans |
| Darren Miller | Charlie G Hawkins |
| Max Branning | Jake Wood |
| Vanessa Gold | Zoe Lucker |
| Lauren Branning | Madeline Duggan |
| Lucy Beale | Melissa Suffield |
| Peter Beale | Thomas Law |
| Mercy Olubunmi | Bunmi Mojekwu |
| Grace Olubunmi | Ellen Thomas |
| Fat Boy Chubb | Ricky Norwood |
| Billie Jackson | Devon Anderson |
| Whitney Dean | Shona McGarty |
| Leon Small | Sam Attwater |
| Zsa Zsa Carter | Linda Henry |
| Louise Mitchell | Brittany Papple |
| Executive Producer | Bryan Kirkwood |