Main content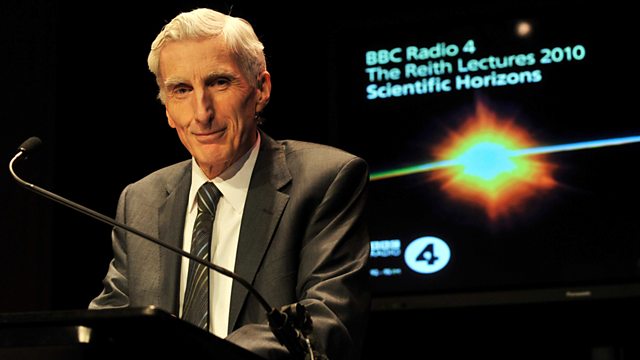 President of the Royal Society Martin Rees explores whether science has the answers to help us save our planet.
Lecture 2: 'Surviving the Century'
In the second of this year's Reith Lectures, recorded for the first time in Wales in the National Museum Cardiff, Martin Rees, President of the Royal Society and Astronomer Royal, continues to explore the challenges facing science in the 21st century. Our planet is coming under increasing strain from climate change, population explosion and food shortages. How can we use science to help us solve the crisis that we are moving rapidly towards, as we use up our natural resources ever more quickly?
Professor Rees explores the urgent need to substantially reduce our global CO2 emissions, or the atmospheric concentration will reach truly threatening levels. To do this, we need international cooperation, and global funding for clean and green technologies. He calls for the UK to keep one step ahead of other countries by developing technologies to reduce emissions, and says we should take the lead in wave and tidal energy, among other solutions. Science brings innovation but also risk, and random elements including fanatics can abuse new technologies to threaten our planet in ways we never dreamt of. The challenge, for our scientists, governments and people, is to confront the threats to our planet and find the solutions in science.
Last on

Broadcasts

Featured in...
Hear Reith Lectures from the world of science and astronomy inc. Robert Oppenheimer

Annual radio lectures on significant issues, delivered by leading figures.
Podcast
Significant international thinkers deliver the BBC's flagship annual lecture series